NSX-2100V Total Nitrogen / Sulfur / Halogen (Chlorine) Analyzer with Vertical Furnace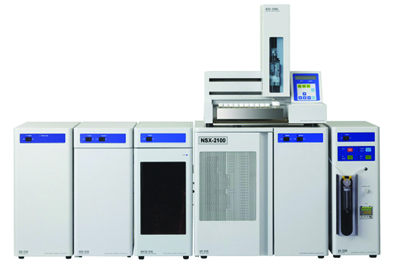 The NSX-2100V can simultaneously measure Nitrogen (CMD) and Sulphur (UVF) from 20 ppb to 10,000 ppm. Add the TRU-100 (Trap & Release) and lower your detection limit of sulphur to 5 ppb. Add the Microcoulometric Detector (MCD) and measure both Sulphur and Chlorine by Oxidative Combustion Microcoulometry.
Add any of the five Gas Injector Systems to measure Nitrogen, Sulphur and Halogens (Chlorine) in Gases and LPG. The NSX-2100V follows ASTM, EN, ISO and JIS Methods protocols. The NSX-2100V large dynamic range, flexibility and versatility make it the ultimate Total Nitrogen, Sulphur and Halogen (Chlorine) analyzer.
//= /* @escapeNotVerified */ __('We can\'t find products matching the selection.') ?>