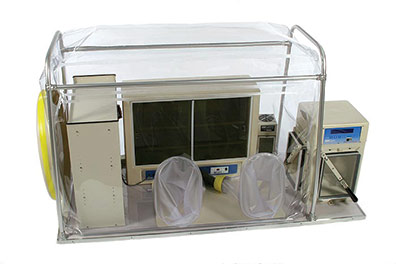 Over the past 30 years COY Labs has expanded it's product line and glove box choices, but the heart and soul of the company remains the Anaerobic Chamber, the original design application for COY Glove Boxes.
The COY Vinyl glove box is the anaerobic chamber of choice around the world. It was the first anaerobic chamber developed especially for anaerobic microbiology. The flexible nature of the vinyl allows the user to reach deeper into the chamber and allows for a greater comfort when working inside the glove box over a long period of time compared to any rigid style of glove box.
All COY Anaerobic Chambers maintain a strict 0-5 parts per million (ppm) oxygen atmosphere through a hydrogen gas (5% mix) reacting with a palladium catalyst to remove oxygen.
For ordering information please send inquiries to info@mandel.ca