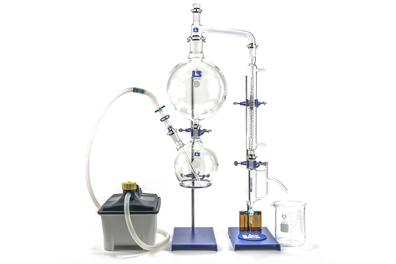 The Terpene Distillation Kit is backed by Lab Society's outstanding warranty, and features everything you need for the steam distillation of terpenes:
Glassware & controllers
Industrial-grade components
Custom-engineered design
Easy to use and affordable
Separate and condense your desired fractions
Biomass chamber
Designed with efficiency in mind
This kit contains all the elements needed for inert gas or steam distillation of terpenes, aside from an inert tank/regulator. Steam or inert gas is pushed through a unique fitted down stem, into a round-bottom flask.
This allows for a more even flow of steam or inert gas, which translates to better yields and less degradation. Distilled water is added to the bottom of the reaction flask to cool down the steam or inert gas depending on your needs. The result is a highly pure isolation.
Simple assembly and ease of use will save you time and money.
Glassware & controllers
Every key component of this steam distillation kit is manufactured with quality and durability in mind.
Industrial-grade components
The difference between consumer-grade and professional-grade equipment is that the former is just for show, and the latter is relied upon to get the job done time and again. Some customers have reported running Lab Society equipment non-stop for not just hours, but days on end.
Custom-engineered design
Lab Society's custom-engineered glassware designs keep them at the forefront of the industry. This complete, turnkey system includes all accessories necessary to extract the most sought-after terpenes on the market, from flowers, herbs, or even fruit.
Easy to use & affordable
The Terpene Distillation Kit is a high-quality, easy to use, and affordable way to extract low boiling point compounds such as terpenes.
Utilizing an external steam (or nitrogen) generator, gas is pushed through a fritted down-stem, which has the option to be completely submerged in water. This percolation effect causes the gas to cool down before rising towards the biomass flask.
Separate and condense your desired fractions
Once fully energized, the gas carries the low boiling point compounds through the distillation arm to be condensed within the Graham Condenser. Condensed liquid is then caught in a distilled, water-filled oil/water separator or a separatory funnel, depending on the specific rig. The fractions can then be separated by means of their relative densities.
The nitrogen variant of this terpene distillation kit must use the Vertical Vacuum Take Off Adapter in conjunction with a Separatory Funnel and a vacuum pump in order to function properly.
Biomass chamber included
The separate biomass chamber, in conjunction with the option to cool the gas, helps reduce the chance of dragging unwanted products into the condenser.
The included Graham condenser has a larger cooling area, which allows for faster condensation of highly volatile terpenes.
A note on this steam distillation kit:
This terpene distillation kit requires a recirculating cooling device to cool the Graham Condenser; Couple this unit with the Lab Society Recirculating Condenser Kit (LS-BTK-4P) or any recirculating chiller. As always, the colder the temperature you can achieve, the better your chance of condensing volatile compounds.*
Be advised that this kit will require the use of a chiller, and Lab Society carry many models of chillers in stock for you to choose from. Lab Society recommends the LS-BTK-4P for steam, and for inert gas, an actual chiller would be preferred.
*The nitrogen kit requires the use of a vacuum and a nitrogen tank, both of which are not included.
System Specifications
Steam Reservoir Size: 4.9 Litres
Material Reservoir Size: 5 Litres
System Requirements
Cooling for Graham Condenser: Pair with LS-BTK-4P, C15, or any recirculating chiller
System And Electrical Parameters
Glassware: Meets ASTM specification E438, Type 1, Class A, and is made from Kimble Kimax or Schott Duran glass
Steam Generator: 1500 watts, Two thermal protectors
Certifications
Steam Generator: UL Listed 2B64
Glassware: Meets ASTM specification E438, Type 1, Class A, and is made from Kimble Kimax or Schott Duran glass
Box contents:
LS Flow Control Adapter
LS Lab Pad, 4"
LS Separatory Funnel -60 ml
LS Vertical Vacuum Take Off Adapter, GL-14
LS Round Bottom Flask, 2L, 2-Neck Angled
LS Biomass Flask, 5L
LS Oil/Water Separator
LS Graham Condenser
LS Steam Injection Port Tube
LS Distillation Arm
Hollow Hex Head Stopper
Support Clamp, 2 Prong Cork Lined, Bosshead (3)
Boss Head, Right Angle, Premium (4)
Retort Ring, 10cm ID
Keck Clip, Metal 24/40 (5)
Keck Clip, Metal 45/50 (1)
Keck Clip, Plastic 14/20 (1)
Ring Stand, 10" x 6" Premium (2)
Steam Generator SS77
Silicone 5/16" ID Tubing (5 ft.)
Filter Paper, Medium 12.5cm
Beaker, Griffin, 1000mL
Glass Vials, Amber 15mL (4)
Steam Generator SS77