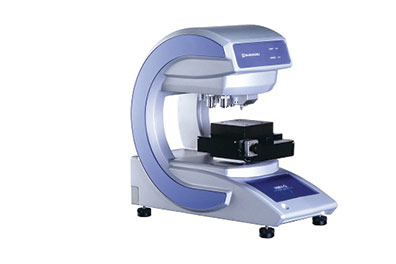 HMV-G micro hardness testers are operator-friendly, cost-effective solutions for a wide range of hardness testing applications, including Vickers hardness, Knoop, Brinell, and triangular pyramid hardness testing.
Convenient, Accurate Micro Hardness Testing
Shimadzu's HMV-G series of Micro Hardness Testers determine hardness by indenting a material and then measuring the size of the resulting indentation. Systems range from standalone hardness testing models with manual stage movement and indentation reading through an optical microscope to fully automated hardness testers with programmable movement and automatic reading by analysis of images from a built-in CCD camera.
HMV-G Hardness Tester models:
HMV-G20 series standalone testers with manual indentation reading and manual stage movement
HMV-G21 series with automatic indentation reading and manual stage movement
HMV-G-XY series hardness testing models that have a motorized XY stage and automatic indentation reading
HMV-G-FA series with automatic indentation reading and a motorized XYZ stage
Nine preset forces between 98.1 mN (10 gf) and 19.6 N (2,000 gf) and four additional programmable force settings come as standard on all HMV-G hardness testers, and a 40x objective lens is provided for indentation size measurement.
Additional Options
Two indenters and up to four objective lenses can be mounted on the same turret
Motorized turret rotation for switching between indenter and lens (included as standard on the HMV-G-XY and HMV-G-FA series)
Low hardness testing force option with three additional forces of 9.81 mN (1 gf), 19.6 mN (2 gf), and 49.0 mN (5 gf)
---
Features
Supports Vickers, Knoop, Brinell, and Triangular Pyramid Indentation Harndess Testing
A Vickers indenter is supplied as standard and a second optional Knoop, Brinell, or 115° triangular pyramid indenter can be added.
G-Shaped Design with Increased Workspace
All HMV-G hardness testers feature a G-shaped design for increased workspace and improved operability. The G-shaped frame is also designed to disperse test loads uniformly and the back of the frame is open, enabling hardness testing of long and narrow samples.
Straightforward Hardness Testing with the HMV-G20 Series
The HMV-G20 series includes a simple test mode for quick testing, where only the test force and indentation duration time need to be set, an easy-to-use LCD touch panel, which displays test condition settings and plots statistical graphs, and direct USB transfers, where data is automatically saved onto a USB memory stick in CSV format.
HMV-G21 Series Offers Versatility and Automatic High-Speed Readings
With a built-in CCD camera, these compact micro hardness testers feature automatic and highly reproducible indentation readings in a fraction of a second, easily navigable software, and routine inspection graphs to track changes in hardness over production cycles.
Fully Automated Pattern Testing in a Fraction of the Time with the HMV-G-FA Series
In addition to features of the HMV-G21 series, the HMV-G-FA hardness testers incorporate:
Automatic indentation and measurement of test patterns, mapping the total image of a specimen for quick movement to indentation sites
A specimen edge recognition function for setting up edge or area hardness testing
Preloaded, customizable test patterns
Programmable depth of hardening measurement according to ISO 3754 and JIS G0559
//= /* @escapeNotVerified */ __('We can\'t find products matching the selection.') ?>