UH-X/FX Series Static Hydraulic Testers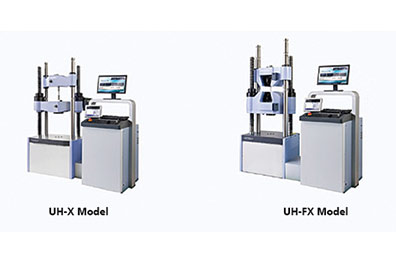 Shimadzu's UH-X and UH-FX series hydraulic universal test frames are easy-to-use, economical solutions for high-capacity testing. With an integrated LCD touch panel and controller unit, the UH-X and UH-FX are completely self-contained, reducing footprint and eliminating exposed hydraulic lines. UH-X test frames include enclosed manual grips, whereas UH-FX test frames have actuated open-front hydraulic grips.
UH-X and UH-FX Series:
Standard test frames from 200 kN to 2,000 kN (44,000 lbf to 440,000 lbf)
Extended height options
Enclosed manual grips options
Front-open hydraulic grips options
Large-capacity test frames over 2,000 kN (440,000 lbf)
---
Features
Integrated LCD Touch Panel
A 10.4-inch color touch screen, conveniently positioned on the controller unit with an easy-to-operate graphical user interface, plots Stress vs Strain curves in real time, and enables tensile, compression, or cycle testing without a computer. With the use of a USB memory stick, measurement data are automatically saved, enabling further analysis with Trapezium X Testing Software.
---
High Speed Sampling Rate
While connected with Trapezium X, data can be acquired every 1 msec (1,000 Hz), capturing sudden changes in data.
---
Precise Stress and Strain Control
Real-time auto-tuning of control parameters eliminates the need for preliminary testing and enables quick and easy stress- or strain-controlled testing compliant with ISO 6892.
---
All-inclusive Safety Measures
A large emergency-stop button, security key switch, and a safety stopper preventing grip face contact keep the operator safe. An optional safety shield provides a greater level of safety by protecting the operator and preventing access to the test space during testing.
---
Optional Indicator
The optional dial indicator provides another choice for monitoring test progress and includes a large analog test force indicator superimposed with digital test force and peak force indicators.
---
Trapezium X Universal Testing Software
Common to all Shimadzu universal test frames, Trapezium X universal testing software redefines the user-friendly graphical interface, seamlessly integrating method development, testing, data analysis, and reporting. Visit the Trapezium X page for more information.
---
Hardware Specifications
(UH-X 200KN | UH-X 300KN | UH-FX 300KN | UH-X 500KN | UH-FX 500KN | UH-600KN)
Test Frame Type and Name
UH-X
200 kN
UH-X
300 kN
UH-FX
300 kN
UH-X
500 kN
UH-FX
500 kN
UH-X
600 kN
Test Frame Load Capacity
Max
200 kN
(44,000 lbs)
Max
300 kN
(67,000 lbs)
Max
300 kN
(67,000 lbs)
Max
500 kN
(112,000 lbs)
Max
500 kN
(112,000 lbs)
Max
600 kN
(134,000 lbs)
Max. Grip Span
800 mm (31 in)
900 mm (35 in)
Max. Compression Plate Span
720 mm (28 in)
800 mm (31 in)
Ram Speed Range
0.1 to 100 mm/min
(0.004 to 3.9 in/min)
0.1 to 80 mm/min
(0.004 to 3 in/min)
Ram Stroke
200 mm (7.8 in)
250 mm (9.8 in)
Effective Table Dimension
500 x 500 mm (19 x 19 in)
650 x 650 mm (25 x 25 in)
Dimensions for Standard Height Test Frame
W780 x D500 x H2000
(W31 x D20 x H91 in)
W870 x D520 x H2300
(W35 x D21 x H91 in)
W960 x D650 x H2400
(W38 x D26 x H95 in)
W1060 x D700 x H2400
(W38 x D26 x H95 in)
W960 x D650 x H2400
(W38 x D26 x H95 in)
Weight for Standard Height Test Frame
Approximately
900 kg
(1,985 lbs)
Approximately
1,500 kg
(3,306 lbs)
Approximately
1,700 kg
(3,748 lbs)
Approximately
2,600 kg
(5,732 lbs)
Approximately
1,700 kg
(3,748 lbs)
---
Hardware Specifications
(UH-X 1000KN | UH-FX 1000KN | UH-X 2000KN | UH-FX 2000KN)
Test Frame Type and Name
UH-X
1000 kN
UH-FX
1000 kN
UH-X
2000 kN
UH-FX
2000 kN
Test Frame Load Capacity
Max 1,000 kN
(224,000 lbs)
Max 1,000 kN
(224,000 lbs)
Max 2,000 kN
(449,000 lbs)
Max 2,000 kN
(449,000 lbs)
Max. Grip Span
1,000 mm (39 in)
1,100 mm (43 in)
Max. Compression Plate Span
900 mm (35 in)
950 mm (37 in)
Ram Speed Range
0.1 to 70 mm/min
(0.004 to 2.75 in/min)
0.1 to 50 mm/min
(0.004 to 1.96 in/min)
Ram Stroke
250 mm (9.8 in)
300 mm (11.8 in)
Effective Table Dimension
750 x 750 mm
(29 x 29 in)
850 x 850 mm
(33 x 33 in)
Dimensions for Standard Height Test Frame
W1170 x D750 x H2800 mm
(W46 x D30 x H111 in)
W1320 x D800 x H3400 mm
(W52 x D32 x H134 in)
W1560 x D920 x H3400 mm
(W62 x D37 x H134 in)
W1560 x D920 x H4300 mm
(W62 x D37 x H178 in)
---
Hardware Specifications
(UH-X 3000KN | UH-FX 3000KN | UH-X 4000KN | UH-FX 4000KN)
Test Frame Type and Name
UH-X
3000 kN
UH-FX
3000 kN
UH-X
4000 kN
UH-FX
4000 kN
Test Frame Load Capacity
Max 3,000 kN
(674,000 lbs)
Max 3,000 kN
(674,000 lbs)
Max 4,000 kN
(899,000 lbs)
Max 4,000 kN
(899,000 lbs)
Max. Grip Span
1,200 mm (47 in)
1,400 mm (55 in)
Max. Compression Plate Span
1,000 mm (39 in)
1,150 mm (45 in)
Ram Speed Range
0.1 to 50 mm/min
(0.004 to 1.96 in/min)
Ram Stroke
300 mm (11.8 in)
350 mm (13.7 in)
Effective Table Dimension
1,000 x 1,000 mm
(39 x 39 in)
1,150 x 1,150 mm
(45 x 45 in)
Dimensions for Standard Height Test Frame
W1860 x D1100 x H3970 mm
(W74 x D44 x H153 in)
W1860 x D1100 x H5700 mm
(W74 x D44 x H225 in)
W2200 x D1400 x H4800 mm
(W87 x D56 x H189 in)
W2200 x D1400 x H5900 mm
(W87 x D56 x H233 in)
---
UH-X/FX Series Controller Unit
Tester Frame Series
UH-X / UH-FX
Test Force Measurement Accuracy
Method
Cylinder internal pressure measurement with pressure cell
High-Accuracy Load Cells
Within ± 0.5% of indicated test force
(for 1/1 to 1/250 of rated capacity)
Standard-Accuracy Load Cells
Within ± 1% of indicated test force
(for 1/1 to 1/250 of rated capacity)