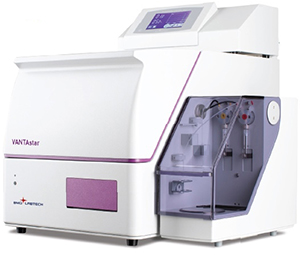 The VANTAstar is an upgradable multi-mode microplate reader compatible with all plate formats up to 384 wells.
Enhanced Dynamic Range (EDR) technology, fast full-plate auto-focus, and luminescence cross-talk reduction make assay detection easier than ever and manual optimisation superfluous.
With its Atmospheric Control Unit for gas control, temperature incubation, multiple shaking options, well scan, and reagent injectors with heater and stirrer, the VANTAstar supports all live cell-based assays.
Product brochure
---
Features
LVF Monochromators for wavelength flexibility and performance
Automatic sensitivity adjustment with EDR
Rapid full-plate auto-focus
Optimised luminescence detection with automatic cross-talk reduction
Spectral scanning in absorbance, fluorescence and luminescence
Dedicated features for live cell-based assays
Full top/bottom detection capability with automatic switch
Reduced footprint
Easily integrated into automated systems
---
Microplate Reader Technologies
LVF Monochromators
The revolutionary next-generation monochromator technology with filter-like performance. LVF Monochromators™ take advantage of Linear Variable Filters (LVF) to separate light into distinct wavelengths and continuously adjustable bandwidths. LVF Monochromators allow for filter-like light transmission and performance, and eliminate the stray light issues found in conventional monochromators. LVF Monochromators can be found on the CLARIOstar Plus and VANTAstar microplate readers.
Enhanced Dynamic Range
Sample signals often span over a wide range of intensities. This makes detection of all samples in a single run problematic as a fixed gain ensures that only a limited range of intensities is reliably detected. Enhanced Dynamic Range was specifically designed to offer the largest possible dynamic range - 8 concentration decades. It allows measurement of bright and dim signals in the same run – no gain setting required – and provides highly reliable results over a large dynamic range with no manual intervention.
Direct Optic Bottom Reading
Fluorescent and luminescent detection of adherent cells substantially profits from measurements performed from the bottom of the well. The PHERAstar FSX, CLARIOstar Plus and VANTAstar have a free air optical path to the bottom of the microplate, improving sensitivity and eliminating the need for fibre optics or light guides. Unlike conventional microplate readers, all BMG LABTECH readers require no displacement or installation of any additional hardware when switching between top and bottom reading modes.
Automation
Automation is a key feature in high-throughput screening. BMG LABTECH microplate readers have been successfully integrated into various robotic systems. Small footprint, multiple robotic software interfaces and an automation-friendly plate carrier guarantee an easy integration into all leading robotic platforms. All plate readers can be controlled through ActiveX or DDE interfaces. Moreover, the ASCII data output is the most versatile in the industry and works with most LIMS and automation platforms.
Reagent Injectors
Many of today's most popular assays such as enzyme kinetics, calcium flux, and dual luciferase require the ability to monitor a signal during and after the addition of a reagent. All BMG LABTECH readers, with the exception of the SPECTROstar <em>Nano</em>, can be equipped with up to two reagent injectors. Injectors enable reagent delivery to any plate format from 6 to 384 wells.
Incubation and Shaking
Shaking and incubation allow users to mix the well content and easily run measurements at elevated temperatures. The incubator controls the air temperature in the measurement chamber from room temperature up to 45°C, 60°C or 65°C. BMG LABTECH microplate readers are equipped with orbital, double-orbital or linear shaking with definable intensity, duration and direction of motion. These features are available on all BMG LABTECH plate readers.
UV/vis Spectrometer
BMG LABTECH was the first and is the only microplate reader manufacturer to equip its instruments with a UV/vis spectrometer for absorbance measurements. Similar to a monochromator, but much faster, the spectrometer will capture full-absorbance spectra from 220 to 1000 nm at a resolution of 1 nm in less than one second/well. Alternatively, up to eight discrete wavelengths can be collected at the same time.
What is Cross-Talk?
Signal cross-talk negatively affects data quality in luminescence and AlphaScreen. It leads to an overestimation of dim samples, increases blank variability and background noise, and the possibility of false positives. The multiple factors to consider when trying to reduce cross-talk, as well as BMG LABTECH´s dedicated solutions are discussed here.
Z-Height Focus
Automatic Z-height adjustment is extremely important for obtaining the best possible signal from every sample. If the focus is inaccurate by as little as 0.2 mm, this can result in a signal degradation of up to 25%. BMG LABTECH's Z-height focus adjustment tool scans the whole sample with 0.1 mm resolution and determines the height at which the strongest signal can be measured.
Path Length Correction
Absorbance measurements such as DNA quantification or protein determination detected in a microplate reader are frequently compared and/or normalized to results from a 1 cm path length cuvette. All BMG LABTECH microplate readers have the ability to perform a 1cm path length correction thanks to an internal fitting algorithm. Using this correction, data normalization to 1 cm path is given with only one mouse click.
---
Detection Modes
Fluorescence intensity (incl. FRET)
Fluorescence polarization
Luminescence (flash and glow) - incl. BRET
Time-resolved fluorescence
TR-FRET
UV/vis absorbance spectra
Measurement Modes
Top and bottom reading
Endpoint and kinetic
Sequential multi-excitation
Sequential multi-emission
Spectral scanning (fluorescence, luminescence, absorbance)
Ratiometric measurements
Well scanning
Microplate Formats
6- to 384-well plates, user-definable
LVis Plate with 16 low volume microspots (2 μL)
Microplate Carrier

Light Sources
High energy xenon flash lamp
Detectors
Low-noise photomultiplier tube
CCD spectrometer
Wavelength Selection
Dual Linear Variable Filter (LVF) Monochromators™
Linear Variable Dichroic Mirror
Separates ex & em LVF Monochromators
Optical filters: Ex and em slides hold up to 5 filters each
LVF Monochromators + optical filters: Use one for ex and the other for em
UV/Vis absorbance spectrometer: Full spectra or 8 distinct wavelengths in < 1 sec/well
Optical Filters
Excitation and emission slides for up to 4 filters each for monochoromator units (VANTAstar), and for up to 5 filters each for filter-only units (VANTAstar F)
Optical Path Guides
Top and bottom: free-air optical light path guided by motor-driven mirrors and dichroics
Z-Adjustment
Automatic focal height adjustment (0.1 mm resolution)
Spectral Range
Filters FI, LUM, TRF, FP, TR-FRET: 240 - 740 nm
LVF Monochromators™ FI, LUM: 320 - 740 nm
Linear Variable Dichroic 340 - 740 nm
Spectrometer ABS: 220 - 1000 nm; wavelength precision: ≤ 0.5 nm
Read Times
Flying mode (1 flash) 9 sec (96), 16 sec (384)
Reagent Injection
Up to 2 reagent injectors
Individual injection volumes for each well: 3 to 500 μL (optionally up to 1 mL)
Variable injection speed up to 420 μL/s
Reagent back flushing
Heater and stirrer plate
Dimensions: width: 13 cm, depth: 31 cm, height: 26 cm; weight: 6 kg
Shaking
Linear, circular and double-circular with user-definable time and speed
Incubation
+4°C above ambient up to 45°C or 60°C
Minimum condensation concept: the upper heating plate of the incubation chamber operates at +0.5°C than the lower plate, heated optic system.
Software
Multi-user Smart Control and MARS Data Analysis Software included
FDA 21 CFR Part 11 compliant
Integrated fluorophore library
Dimensions
Width: 35 cm, depth: 52 cm, height: 36 cm; weight: 27 kg
---
Optional Accessories
LVis Plate
Sample capacity: sixteen separate microdrop wells for 2 µL samples; one standard cuvette position for up to 1 mL samples.
Quality Control Internal Standards (optional): four NIST traceable optical density filters (approximate values of 0.1, 0.3, 0.6 and 1.0 OD); one holmium oxide filter for wavelength accuracy
Dimensions: conforms to SBS standards for microplates.
Atmospheric Control Unit (ACU)
Actively regulates O2 and CO2 - 1-20%
THERMOstar
Microplate incubator and shaker
Optical Filters
Excitation and emission filters
Upgrades
Upgrades to include options such as additional detection modes, reagent injectors, extended temperature control, etc. are available. Please contact your local representative for more information.
//= /* @escapeNotVerified */ __('We can\'t find products matching the selection.') ?>