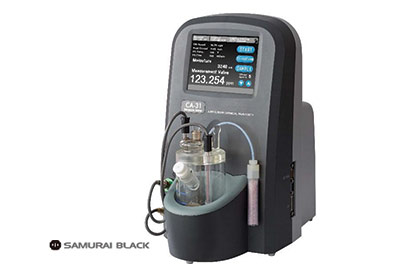 Portable Coulometric Karl Fischer Moisture Meter
The CA-31 is equipped with a 5.7-inch colour LCD touch panel, which enables the user to operate practically manual-free, and all necessary information visible in one view.
Users can choose between a conventional 2-solution setup with fritted cathode solution cell, or a single solution configuration with fritless cathode. Optional reagent dispensing system can be utilized with the fritless cathode solution cell and automate the replacement of reagent.
Numerous Mitsubishi vapourizers can be connected to the CA-31 to accommodate difficult-to-dissolve samples such as powders, pellets, pastes, lubricants, etc. By connecting Mitsubishi's model VG-200 to CA-31, liquefied gas samples can also be measured easily.
PC software TV-31 will enable users to collect measurement results from CA-31 and prepare reports with titration charts, parameters, calculation formula, etc. in Microsoft Word® or Excel® format.
A USB keyboard can be connected to the CA-31 for easier input of sample names. For users who prefer not to use the touch panel, it is possible to control all functions of the instrument from the USB keyboard.
Available in two colours.