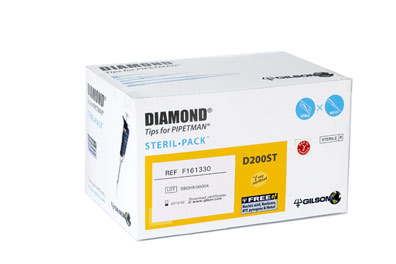 DIAMOND® Tips STERILPACK™ are wrapped in medical device quality plastic, which provides a complete shield against contaminants. They are individually wrapped for complete protection up to the moment of use.
DIAMOND Tips STERILPACK are irradiated by gamma rays for more efficient sterilization. The sterilization is guaranteed for 5 years. The expiry date appears on the packaging and the sterilization certificate can be downloaded on the Gilson Website.
Manufactured by a fully automatic process in a controlled environment, DIAMOND Tips are never touched by human hands. Sterilized DIAMOND Tips are certified free of detectableDNA, RNA, DNase, RNase, ATP, Pyrogens and trace metals.