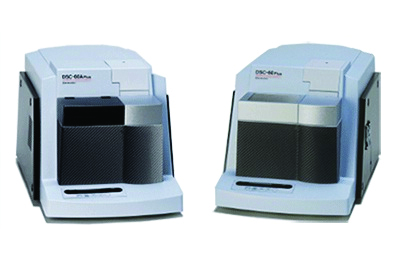 Shimadzu has been pursuing what thermal analysis instruments should be since developing the DT-1 in 1958, the first differential thermal analyzer in Japan. Today, Shimadzu Thermal Analysis Systems offer unmatched flexibility in material characterization with either complete standalone functionality or multi-system operation for up to 4 units.
The 60 Series encompasses:
The fully integrated DTG-60, which features a newly designed, integrated balance assembly that enables easy, accurate simultaneous TG/DTA measurements.
The TMA-60 offers precise measurements over an expanded detection range
The DSC-60, equipped standard with a cooling chamber, delivers powerful performance with a range of integrated functions.
A vast array of sample pans and cooling accessories helps meet the most rigorous experimental routines.For applications demanding automation and throughput, check out the DSC-60A and DTG-60A/60AH models, which have a built-in automatic sampler that delivers easy operation and programming, and enables long-term automated analysis.
//= /* @escapeNotVerified */ __('We can\'t find products matching the selection.') ?>