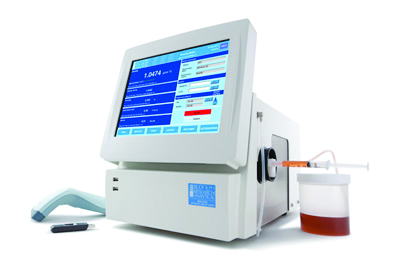 For Chemical, Petroleum, Pharmaceutical, Petro-Chemical, and Beverage Labs
The Rudolph Density Meter product lines are ideal for both research and production work across many industries including Chemical, Petroleum, Pharmaceutical, Petro-Chemical, and Beverage. Having great experience serving these markets for decades Rudolph has incorporated the features you need for both production and research applications.
DENSITY METERS – PETROLEUM LABORATORY
Measure API Values in accordance with ASTM D1250, ASTM D4052, ASTM D5002, DIN 51757, ISO 12185, ASTM D4806, IP 365, and ASTM D5931
QC incoming raw materials
Research new products and additives
Withstands harsh and heavy use environments
Calibrate using petroleum standards
AUTOMATIC DENSITY METERS – CHEMICAL INDUSTRY
Measure in units of Kg/m3, g/cm3, g/ml, pounds/gallon, specific gravity, Baumé
Determine concentration in: %, molarity, normality, mole fraction, ppm
Check batch consistency and ensure proper blending rations
All wetted materials are compatible with the most aggressive chemicals
Many additional measurement and method options
HIGH ACCURACY DENSITY METERS – PHARMACEUTICAL LABORATORIES
Capable of 3, 5 or more multiple measurements with standard deviation, mean, min and max reading for true cGLP/GMP compliance
Complete IQ/OQ/PQ documentation
Checking of raw materials and product release
21CFR11 Compliance; Electronic Signature and Secure Data Storage
Compliant with USP <8417> ISO 17025, JP, BP, and EP
DENSITY METERS – BEVERAGE APPLICATIONS
Measure both alcoholic and nonalcoholic beverages with easy bubble detection using VideoView™
Direct and accurate means of °Brix determination, °Plato, °Balling, % Solids
Use apparent density function for proper filling volume monitoring
How to Choose A Density Meter for your Application
Selecting a Density Meter model for chemical, pharmaceutical, petroleum, cosmetics, essential oils, petro-chemical, education, and university applications. The Rudolph DDM2910 and DDM2911 offer a wide range of sample handling, sample loading, method management, measurement, and measurement fail-safe options. Rudolph Density Meters address each aspect of the density measurement process to ease and speed sample handling, manage measurement methods, monitor the density meter's testing environment, and aid the operator with clear controls and a crisp digital display. The Rudolph Advantage in Density Meters includes:
Density Meters with On-board Flexible Method Management
Factory installed density meter measurement methods allow for immediate selection of the correct method to match the most common applications.
For unique density measurement applications, create a sample method using an unlimited number of Concentration Tables, Formulas, and Polynomials to match the density measurement methods used in your laboratory.
Setting up your custom method on your Density Meter is as simple as filling out a few screens.
Density Meters with Wider Measurement Range
The Rudolph DDM2910 and DDM2911 Density Meters can measure samples from 0 degree C to 90 degree C offer temperature control to one of the widest in the industry giving you the correct temperature for your measurement application.
---
Density Meters from Rudolph Research offer a full view of the U-Tube for effective Bubble Detection
No more straining to see small difficult-to-detect air bubbles in your sample with live on-screen viewing of the entire U-Tube. On-screen bubble detection is made possible utilizing Rudolph's exclusive camera that allows a 2X, 6X and 10X magnified view of the entire U-Tube. No other instrument manufacturer offers this technology or helps the user avoid error causing air bubbles like Rudolph Research.
Rudolph Research offers Density Meters with 21CFR Part 11 Instrument Level Compliance
The DDM2910 and DDM2911's 21CFR Part 11 software module is easily enabled through the user friendly, digital touch screen. This module gives you full compliance with:
Oscillating U-Tube with Viscosity Correction and Reference Oscillator
(patent pending)
The Rudolph Research Density Meter's oscillating U-tube with full range viscosity correction and reference oscillator (patent pending) allows long term calibration stability and measurement at all temperatures with a single calibration
cGMP/GLP Calibration
Calibrate the DDM2910 and DDM2911 with 2 or 3 Traceable Standards – calibrating with merely air and water appears inconsistent with cGMP/GLP compliance regulations. (see H&D Fitzgerald's recommendations at www.density.co.uk )
Can print out complete method configuration, communication settings, as well as calibration verification and calibration adjustment data/history
Measured values can be shown continuously as temperature stability is being reached or, at the discretion of the user, measured values will only be displayed once the final answer is reached and completely stable
Unlimited number of customized calibration adjustments and calibration verifications possible
Windows®-Based Computer Flexibility
32 gigabytes of internal memory allow almost unlimited capacity for saving measurement data. The DDM 2911 and DDM 2910 Density Meters are network ready and data may also be saved directly to your server or to any directory desired.
Internet access is possible directly from the DDM2910 or DDM2911 touch screen.
Disk Protection feature protects the operating system against malware infections in networked environments.
Windows based navigation architecture is so intuitive that most operators will never read the manual. But should you wish to reference the manual, it is stored right on the DDM 2911 and DDM 2910's internal memory
Copy methods, transfer concentration tables, download data, etc., via one of the 2 of 5 total USB ports on front of unit.
Three additional rear USB ports allow for quick and easy connection to a mouse, keyboard, printer, bar code scanner, or memory stick.
Versatile Communication Capability
The DDM2910 and DDM2911 standard communication package includes:
Cat 5 Network Cable Connection
5 USB ports
2 RS 232 Ports
cGMP/GLP Printing
Sample measurement reports are edited quickly and easily. Just import templates from Word® or Excel® to the DDM2910 and DDM2911 Density Meter and print your company's customized "C of A" directly.
Traceable Calibration Standards
Rudolph knows how important it is to calibrate with Traceable Standards and therefore, we include either a NIST or UKAS standard in the accessories provided with both our DDM2910 and DDM2911 Density Meters.
Rudolph offers a wide range of sample handling option
Rudolph DDM with AutoFill™ was developed by listening to customers who wanted an easier method of sample loading that they could decant right from their existing containers. Samples are easily poured right into the AutoFill™ sample well without having to come in contact with the sample; simply pour it in. From there the lid is closed and the sample is advanced to the U-Tube with the push of a button on the DDM touch screen. To clean, open the lid and pour in the solvent of your choice. Close the sample well lid again, press a button and the solvent is flushed through the U-Tube and air drying is automatically started.
---
Who Should Use this System?
Users who want to make many measurements each day and want an easy to load Density Meter with an equally easy cleaning routine.
Laboratories who do not want to come in contact with caustic acids, or bases.
Density Meters easily integrate with Laboratory Automation Flexibility
Rudolph Research knows you need to save time and thus money performing routine measurement tasks. Using a Rudolph Density Meter as the heart of the system we can combine multiple instruments to produce measurement routines on up to 240 sample. We can design a custom configuration just for your application.
With decades of worldwide laboratory instrument design and sale Rudolph Research knows you application requirements and can help you select the right instrument including the right Density Meter from our innovative line of products.