Verity GX-271 Liquid Handler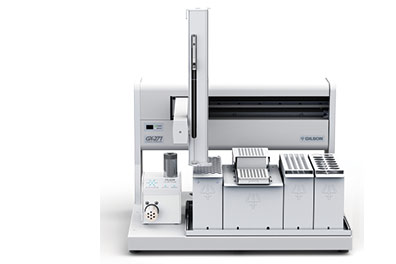 This small footprint, medium capacity liquid handler and autosampler offers small-to-large volume injection, fraction collection, and liquid handling capabilities. Its dynamic syringeless pumping system is capable of delivering microliters to hundreds of milliliters, with no change in hardware.
Innovative Injection Modules
This mid-throughput liquid handler can be configured with a Direct Injection Module for injection onto an HPLC or LC/MS system. An innovative injection port design that attaches directly to the injection valve reduces void volumes and minimizes carryover associated with calibrated connection tubing, allowing. injection volumes from 2 µL up to 25 mL.The continuous flow path design on all injection valves allows the system flow to continue even as the injection valve switches from load to inject, ensuring consistent pressure and flow.
Versatile, Space-saving Design
With a small footprint of only 23 inches of linear bench space and with a mid-size bed capacity, you'll have the perfect blend of size, performance, and capacity. On-bed reservoirs provide access for up to four solvents without utilizing a position on the bed. The modular design supports the use of Code 20, 200, or 34X Series Racks and easily accommodates a variety of tubes, vials, and microplates.
Purification System Designed for your Application
VERITY systems offer a wide array of components to meet all of your purification needs.
Classic HPLC to flash to CPC, for small to large molecules
Milligram to kilogram purifications
Batch to continuous injection techniques
UV/Vis, ELSD and MS detection options
Get the Accuracy and Precision You Need for Trusted Results
Ease of use — Systems controlled by intuitive software allowing you to focus on the science
Flexibility — Numerous choices and options let you adapt quickly to your changing research
Built-to-last — Durability backed by Gilson's long history in chromatography
---
Popular VERITY Configurations
VERITY PLC Purification Systems — Easily switch from preparative to flash chromatography with a simple column change
VERITY PLC Systems with CPC Column — Ideal for natural product purification, PLC with CPC offers improved yield and zero sample loss at less cost
VERITY PLC-MS Systems — Reduce the number of fractions collected and analyzed for additional time and money savings
VERITY Oligo Purification System — Isolate, analyze, and desalt reagent-grade oligonucleotides in one continuous run
VERITY GPC Clean-up System — Improve LC and GC column life and decrease downtime with manual or automated post-extraction clean-up
//= /* @escapeNotVerified */ __('We can\'t find products matching the selection.') ?>