AOC-20 Series Liquid Sample Injection System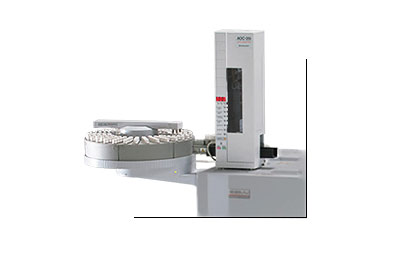 The AOC-20 Series are autosamplers for Shimadzu gas chromatographs that dramatically improve the work efficiency and reliability of GC analysis.
The AOC-20 Series are no simple sample injectors. They are multifunctional robotic autosamplers that provide powerful support to enhance the reliability and productivity of your analysis operations. The AOC-20 Series offer functions including effective solvent flushing (introducing air or solvent into the syringe before sampling) for the analysis of samples that tend to remain in the syringe, multisampling to increase the sensitivity to trace components by continuous injection during analysis, and pretreatment functions including adding reaction reagents. The AOC-20 Series offer unrivalled durability and reliability.
---
Auto Injector AOC-20i
Sample introduction is a key aspect of any gas chromatographic system. The auto injector must be able to inject samples into a variety of injection ports, including split/splitless, direct (WBI), cool on column (OCI) or programmed temperature vaporization (PTV).
Injection parameters also must be controlled to best suit your sample analysis. The new AOC-20 (Automatic Operation Controller) does all of this and more, providing the ideal solution for your laboratory challenges.
The AOC-20 provides the highest degree of reliability. This means that the unit produces reproducible results, with a minimum of problems such as bent needles, evaporating samples, etc. Maintaining reproducible results requires that periodic maintenance be performed, such as changing the injection port septa or syringe. With the AOC-20, these procedures are simple and you can comfortably perform them without fear of adversely affecting instrument performance.
The challenge in today's laboratory is processing large sample numbers and various vial types in an automated fashion. In addition, ever decreasing detection limits demand increased flexibility for different injection techniques, including large volume injection (LVI), solvent flush, and solvent flush with a second solvent. The AOC-20 meets these challenges and enhances throughput to meet your productivity goals.
---
Auto Sampler AOC-20s
Flexible sample handling of up to 150 vials, greatly enhances laboratory productivity!
The AOC-20s Auto Sampler carousel and robotic arm provide for sample transport to the AOC-20i Auto Injector using 1.5 mL and 4.0 mL vials. The system is smart too! It can tell the difference between the vial types by reading the information from the vial tray in use. The AOC-20i/AOC-20s is a powerful automation tool for the GC laboratory that allows the user to take full advantage of the GC system's capabilities.
---
Specifications
AOC-20i
AOC-20s
Sample Injection Method
Liquid sample injection via special microsyringe
Sample Volume
0.1 ~ 8.0 µl, 0.1µl steps (using 10ul syringe)
0.5 ~ 40 µl, 0.5 µl steps (using 50ul syringe)
2.5 ~ 200 µl, 2.5 µl steps (using 250ul syringe)
Number of Samples
6 vials (with option, 12 possible)
1.5ml sample vials - 150 vials
4ml sample vials- 96 vials
Sample Vials
Glass construction, 1.5ml, 4ml, screw top, PTFE-coated septum
Rinse Solvent Vials
Glass construction, 4ml, screw top, PTFE-coated septum
Number of Sample Injections
1 ~ 99 injections per sample
Syringe Speed
2 Modes: Fast and Slow
Plunger Speed
3 Modes: Fast, Medium and Slow
Wait Time
0 ~ 99 sec following sample aspiration (in 0.1 sec steps)
Type of Sample Injection
3 Modes: Traditional, Solvent Flush and Solvent Flush with a Second Solvent
Injection Volume Linearity
±0.5% (injection volume 1 ~ 5 µl, sample n-C

12

Cross Contamination
Less than 10

-4

(as determins with a 1% diphenyl in hexane using 4 solvent rinses)
Priority Sample
A priority sample injection can be injected during a sample sequence, the the sequence can be resumed
Dual Injection System
Available on GC-17A platform only
One set of AOC-20s can feed sample vials to two sets of AOC-20i
Sample Cooling/Heating
0 ~ 60°C, with optional cooling rack connected to a general laboratory circulating water bath
External Control
Includes optional optical link or RS232C interface
Dimensions, weight
126 (W) x 380 (H) x 78 (D) mm, 2.5 kg
320 (W) x 135 (H), 2.4 kg
Power Supply
260 (W) x 70 (H) x 420 (D) mm, 2.8kg
Power requirements
AC100/115/220V±10% 50/60HZ