EZ-X Series Tabletop Electromechanical Testers/Texture Analyzers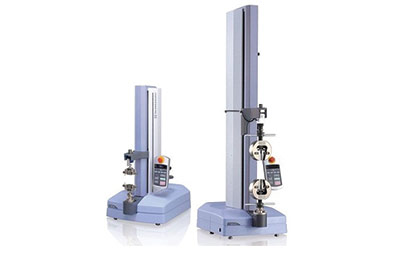 The growth in physical evaluation testing means more fields are now required to undertake such testing, including food, medical device, plastics, electronics, and textiles manufacturers, to name but a few. The multiple combinations of models and different capacity load cells make Shimadzu's EZ-X series of single-column electromechanical universal testers a suitable solution for many materials testing applications.
To further support customer requirements, a wide variety of easy-to-exchange specialized jigs and accessories are available, such as tensile grips, compression plates, bending jigs, and texture analysis jigs.
Multiple Combinations
The EZ-X series has three distinct models:
EZ-SX short-column model with a capacity up to 500 N (up to 110 lbf)
EZ-LX long-stroke model with a capacity up to 5 kN (up to 1,100 lbf)
EZ-LX HS long-stroke and high-speed model, with a capacity up to 2 kN (up to 440 lbf), and a return speed up to 3,000 mm/min (118 in/min)