EZ-X Series Tabletop Electromechanical Testers/Texture Analyzers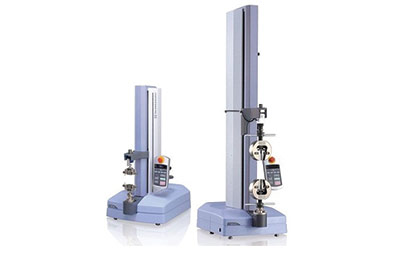 Shimadzu's EZ-X series single-column universal test frames provide a convenient solution for low-capacity testing of medical devices, pharmaceuticals, electronics, food, and raw materials. To further support customer requirements, a wide variety of load cells, easy-to-exchange test fixtures, and accessories is available.
EZ-X Series:
EZ-SX short-column test frame – 500 N (110 lbf)
EZ-LX long-stroke and high-speed test frame – 2 kN (440 lbf)
EZ-LX long-stroke test frame – 5 kN (1,100 lbf)
Load cell options from 1 N to 5 kN (0.22 lbf to 1,100 lbf)
---
Features
Compact and Ergonomic

The EZ-X series' small footprint is ideal for labs with limited bench space. The open-column design provides easy access to the test frame, making fixture and sample exchange convenient.

Full Line of Test Fixtures

A wide variety of test fixtures, including tensile grips, compression plates, bend fixtures, shear fixtures, and food texture analysis fixtures, is available. In addition, extensometers, deflectometers, and analog signals are seamlessly integrated.

Adjustable Operation Panel

The operation panel has an adjustable position and angle, and enables tensile, compression, or cycle testing without a computer.

High-Performance Load Cells

The EZ-X series boasts Shimadzu's standard line of interchangeable load cells with ±0.5% accuracy over a wide range of 1/1 to 1/500 of the maximum capacity, guaranteeing quality performance and versatility.

Comprehensive Safety Measures

Safety functions include emergency-stop buttons, limit switches, and collision detection, all designed for operator peace of mind.
---
Software
Trapezium X Universal Testing Software
Common to all Shimadzu universal test frames, Trapezium X universal testing software redefines the user-friendly graphical interface, seamlessly integrating method development, testing, data analysis, and reporting.
---
Hardware Specifications
Test Frame Range
EZ-SX
EZ-LX
EZ-LX HS
Test Frame Load Capacity
Max. 500N (112 lbs)
Max. 5kN (1,120 lbs)
Max. 2kN (448 lbs)
Crosshead Speed Range
0.001 to 1000 mm/min
(0.00004 to 39 in/min)
0.001 to 2000 mm/min
(0.00004 to 78 in/min)
Crosshead Speed Accuracy
Within ±0.1% of test speed
Crosshead Positional Accuracy
±0.1% of indicated value or ±0.01mm, whichever is larger
Test Force Measurement Accuracy
High-Accuracy Load Cells
Within ± 0.5% of indicated test force (for 1/1 to 1/500 of load cell rated capacity)
Standard-Accuracy Load Cells
Within ± 1% of indicated test force (for 1/1 to 1/500 of load cell rated capacity)
Depth of Test Space
100 mm (4 in)
Crosshead-Travel
500 mm (19.5 in)
920 mm (36 in)
Data Capture Travel
1000 Hz
Standard Input/Output Channels
– 1 Dedicated load channel
– 1 Digital input/output channel*2
– 1 Control input/output channel *2
See brochure for more details.
Note 1: When the load cell capacity is smaller than the test frame load capacity, the former is the maximum test force.
Note 2: Optional expansion box can be used to increase the number of channels, see brochure for details.
//= /* @escapeNotVerified */ __('We can\'t find products matching the selection.') ?>