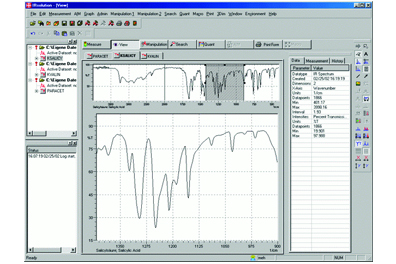 IRsolution FTIR control software supports FDA 21 CFR Part 11 compliance and provides a high level of security. It also includes validation software compliant with JP (Japanese Pharmacopoeia), EP (European Pharmacopoeia), and ASTM (American Society for Testing and Materials) requirements (provided resolution is 2 cm-1 for JP and EP) and a function that automatically recognizes attached accessory equipment.
The functionality of Version 1.40 has been increased significantly. It now includes, as part of the standard software, a Contaminant Analysis Program, which provides powerful support for contaminant analysis, and a Japan PharmaReport Program.
It also offers a family of optional software programs that further increase the scope of applications.
//= /* @escapeNotVerified */ __('We can\'t find products matching the selection.') ?>