NSX-5000V Total Nitrogen / Sulfur / Halogen (Chlorine) Analyzer with Vertical Furnace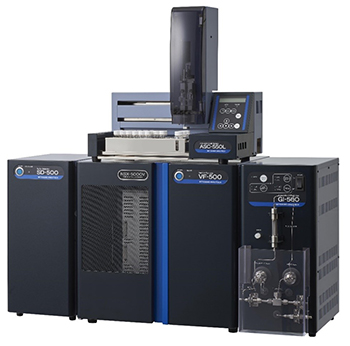 The Nittoseiko NSX-5000V's large dynamic range, flexibility, and versatility make it the ultimate Total Nitrogen, Sulphur and Halogen (Chlorine) analyzer. NSX-5000V series reduces environmental impact through advanced technologies, and follows ASTM, EN, ISO and JIS Methods protocols.
It enables automatic, safe, and highly sensitive measurement of trace nitrogen, sulfur, and chlorine in liquid or gas samples, and can be used in a wide range of applications such as quality control of petroleum/chemical/recycled products or automotive fuels and environmental analysis.
Add any of the Gas Injector Systems to measure Nitrogen, Sulphur and Halogens (Chlorine) in Gases and LPG.
---
Features
Automatic syringe dilution (ASC-550L)
Automatic dilution can be performed accurately regardless of the proficiency of the operation by simply setting stock solution and solvent in the vials. Advance preparation for calibration curves is no need and waste solution can be reduced, resulting in reducing environmental load and low running costs.
User-friendly software
Simple and Advanced modes are available for a wide range of users such as in lab and product quality control.
Low running cost
Less gas consumption than before. It is also available to shutoff the gas at the end of measurement automatically.
Easy daily maintenance
Unique open/close type furnace provides easy operation and easy visual check of the condition of pyrolysis tube.
Audit trail
All operations are recorded in preparation to an audit, and it can be viewed in Advanced mode.
User management
Three levels of login function enable to protect method and data from unintended change or deletion.
Wide range, Easy of use
High/Low, simplified selection of sensitivity for each detector.
Reanalysis function
After measurement, the "start time of measurement" and "end time" for chart date can be corrected if necessary to optimize.
//= /* @escapeNotVerified */ __('We can\'t find products matching the selection.') ?>