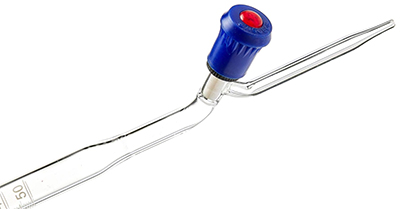 Borosil® Boroflo Burettes ("Burets") provide users with the ultimate flow control and ease of use.
The fluid path is composed exclusively of glass and PTFE, creating a leakproof system that is incredibly resistant to chemical attack, and which requires no lubrication whatsoever. Boroflo Screw-Thread Keys are incredibly easy to control when compared to traditional stopcock designs, and are also quite easy to dismantle and clean.
Because of the precise molding of the Boroflo PTFE Keys, parts can be replaced with ease and reliability. Each Borosil® Burette is individually calibrated by automatic, laser-controlled calibration equipment in an ISO/IEC 17025:2005 accredited calibration facility. Individual certificates can be downloaded by visiting Borosil's website, Borosil.com, or by downloading the Borosil app on your smartphone or tablet.
Available in sizes ranging from 10mL to 100mL. Borosil® Class A Boroflo Burettes comply with ASTM E-287-2 specifications.