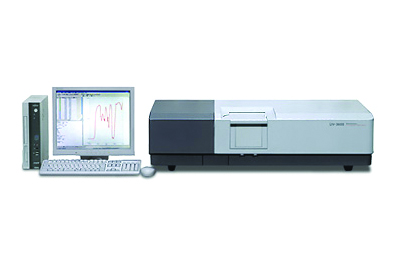 The UV-3600i Plus UV-Vis-NIR spectrophotometer incorporates the latest technology in optical components to achieve high sensitivity, high resolution, and an ultra-low stray light level, leading the way to new solutions. Measurement capability in the UV, Visible and up to 3,300nm in the near-IR allows for characterizing all types of samples including solids, powders, wafers, films and liquids. Applications include but are not limited to haze analysis, band gap analysis, photovoltaics, coatings, and optical component characterization.
The UV-3600i Plus is equipped with double grating monochromators to achieve ultra low stray light levels that ensure constant optical resolution of 0.1nm or lower in the ultraviolet and visible region and 0.4nm in the near-infrared region. The wavelength range span from 185nm to 3,300 nm making the spectrophotometer suitable for all kinds of samples, especially samples encountered in the field of materials that absorb or reflect in the ultraviolet, visible and near-infrared regions. Main researches and markets utilizing this instrument include materials characterization in electronics and optics, chemicals, pharmaceuticals, cosmetics, life sciences, environmental, textiles and food.
Shimadzu LabSolutions UV-Vis control software is included with the instrument. Measurement modes include photometric, spectrum, quantitation, kinetics, time course and bio-methods. Advanced software add-on for Film Thickness Measurement, Color Measurement, UPF (Ultraviolet Protection Factor) Calculation and Daylight Transmission Measurement are available. Large sample compartment for larger solid samples, integrating spheres and variable angle measurement accessories are also available.
With the LabSolutions UV-Vis software, users can get most out of the instrument in terms of data acquisition, analysis, data integrity and users administration. With proper software compliance package, the UV-3600i Plus UV-Vis-NIR spectrophotometer and the software setup can provide total data integrity, users administration and audit trail to fully comply with FDA 21 CFR Part 11 compliance.
Specifications
Measurement range of 185 – 3,300 nm achieved through double monochromators and three detectors to cover the UV, Visible and near-IR regions with high efficiency.
Solid sample reflectance measurement with the Integrating Sphere and/or the optional large sample compartment
Ultra low stray light and high resolution for solid, wafers, films, optical components, coatings and liquids measurements
Selectable bandwidths to comply with requirements of regulated laboratories and high-end research
Large sample compartment for large solid samples and variable angle measurement accessories available
Advanced software add-on for Film Thickness Measurement, Colour Measurement, UPF (Ultraviolet Protection Factor) Calculation and Daylight Transmission Measurement
Autosamplers, multi-cell changer, film holder, accessories for temperature-controlled measurements, integrating spheres and reflectance accessories are available
Advanced Regulatory Compliance – Full support for Pharmacopeia (JP, USP and EP), GLP/GMP, FDA 21 CFR Part 11 and other regulations with appropriate software package
Enhanced security functions to provide audit trails and various user authority levels ("Administrator", "Developer" and "Operator")
A diversity of measurement modes: photometric, spectrum, quantitation, kinetics, time course and bio-methods
//= /* @escapeNotVerified */ __('We can\'t find products matching the selection.') ?>