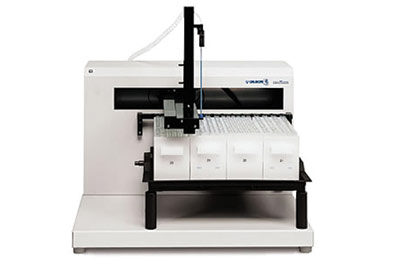 The 223 Sample Changer is a programmable sampler that is ideal for automated transfer of samples for analytical techniques such as FIA and various spectroscopy (UV/Vis, AS, and ICP) methods.
Ideal for Sample Preparation and Transfer
The 223 Sample Changer showcases its flexibility by providing an efficient method of sample preparation and transfer including serial dilutions, additions, sampling into vials, timed reactions, and tube-to-tube transfers.
Ideal for Analytical Techniques
The 223 Sample Changer makes automated sample transfer steps easy, accommodating up to 432 vials (7 x 40 mm or 10 x 75 mm). It is especially suited for analytical techniques like FIA and spectroscopy (UV/Vis, AA, ICP).
Optional Accessories
The 223 Sample Changer is offered with different-sized vertical arms, a wide variety of probe designs, and standard or custom racks. Operate the changer with a peristaltic pump or syringe pump to add aspirating and dispensing flexibility. Select the optional flow-through rinse station, available on the left and/or right of the support bar, to reduce cross-contamination.
---
Specifications
| | |
| --- | --- |
| Communication | RS-232 or GSIOC |
| Connections | Four inputs (contact closure, TTL, or open-collector), four relay outputs and one switched +12V DC (500 mA max.) output |
| Dimensions | 53.5 x 43.7 x 60 cm (21.1 x 17.2 x 24 in.) Maximum height. Z-arm height is may vary depending on arm and adjustment |
| Vertical Punch Strength | 1 kg (2 lbs.) |
| Voltage | 90–120 or 220–240V depending on model, mains voltage fluctuations not to exceed ±10% of the nominal voltage |
| Weight | 18.6 kg (41 lbs.) |
| Pack Size | 1 |
| Pack Size Unit | Each |