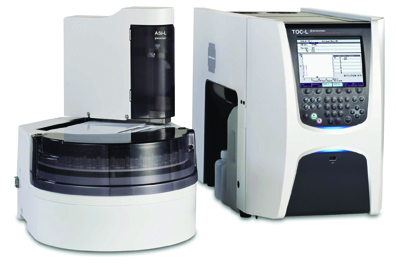 Consisting of PC-controlled and stand-alone models, the Shimadzu TOC-L Series of laboratory total organic carbon analyzers offers the optimum selection of performance features and options to meet the specific requirements of total organic carbon testing in a wide range of aqueous samples. An ultra-wide measurement range and Shimadzu's patented 680°C Combustion Catalytic Oxidation/NDIR detection method make the TOC-L analyzers the ideal solutions for quality control, process control, and experimental research applications in the environmental, chemical, and pharmaceutical industries.
Patented 680°C Combustion Catalytic Oxidation/NDIR Detection Method
The combustion catalytic oxidation method completely oxidizes easily decomposed, low-molecular-weight organic compounds, as well as hard-to-decompose insoluble and macromolecular organic compounds. In addition, the temperature required for catalytic combustion is significantly lower than required for combustion without a catalyst, increasing combustion tube life and minimizing the effect of high salt content in samples.
This high-temperature catalytic oxidation technique is specified in several US EPA-approved methods, including:
EPA 415.3
SM 5310B
ASTM D7573
Ultra Wide Sample Measurement Range
A sample range of 4 μg/L to 30,000 mg/L (with the automatic dilution function) enables measurements of everything from ultrapure water to highly contaminated water.
Reliable, Efficient Sample Injection System
Features automatic sample acidification and sparging, as well as an automatic dilution function that reduces sample salinity, acidity and alkalinity. This significantly extends the use of catalysts and combustion tubes.
Standard and High-Sensitivity Models
The TOC-L series consists of a high-sensitivity model with a detection limit of 4 μg/L, making it suitable for a variety of applications, including pure water measurements, and a standard model designed for more routine TOC measurements. Each model is available as a standalone or PC-controlled laboratory TOC system. The standalone model offers:
TOC-L Analyzer keyboard and usb port
Easy-to-use dedicated keyboard and highly-visible TFT color LCD screen
Ability to output measured data to USB memory for easy PC-based data management
Printout by commercially-available PC printer
Functions Common With Each Model
Automatic setting of optimal measurement conditions
Automatic selection of the optimal calibration curve
Automatic changing of conditions and re-measurement of out-of-range samples
//= /* @escapeNotVerified */ __('We can\'t find products matching the selection.') ?>