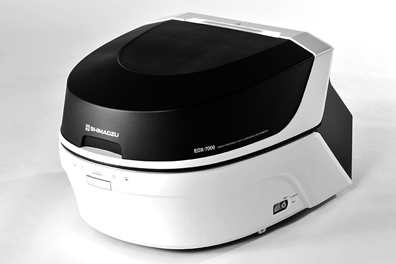 Incorporating a high-performance, electronically cooled semiconductor, equipped with five primary filers, and operated by easy-to-use software, the series of EDX-7000/8100 energy dispersive XRF spectrometers achieve fast, precise EDXRF analysis of a wide range of elements in markets ranging from electronics (RoHS screening), automotive, and chemicals to environmental, pharmaceutical, and food.
Low Detection Limits and Superior Resolution
The high-performance, state-of-the-art semiconductor (SDD) detector and combination of optimized optics and primary filters achieve outstanding EDXRF sensitivity across the entire range from light to heavy elements. In addition, the SDD reduces the effects of overlapping peaks of different elements, leading to more reliable analytical results.
Higher Productivity
The high fluorescent X-ray count per unit time (high count rate) of the SDD detector permits precise EDXRF analysis in a shorter measurement time, allowing researchers and labs to increase their productivity without sacrificing accuracy.
Sensitive Trace-element Analysis
The EDX-7000/8100 energy dispersive XRF spectrometers incorporate five primary filters and four collimators. Usable in any combination, the filters enable highly sensitive EDXRF analysis of trace elements while the four different sized collimators reduce scattering with small samples or isolation of measurement area.
The EDX-8100 model features an SDD detector with a special ultra-thin-film window material that is able to detect ultra-light elements such as carbon (C), oxygen (O), and fluorine (F).
Easier Operation
Various design features, along with minimal sample preparation, simplify operation for all users. These include:
Electronically Cooled SDD – Does not require liquid nitrogen, thereby reducing operating costs and maintenance requirements.
Large Sample Chamber – Despite their compact size, these XRF spectrometers accommodate virtually any sample type, including thin films, powders, slurries, emulsions and liquids.
 

Sample Observation Camera – Working in tandem with the collimators, the camera enables precise sample positioning while also providing a scale for judging appropriate collimator size
High-Visibility LED Lamp – Allows easily monitoring the instrument status even from a distance.

Freely Combine Collimators and Primary Filters – The collimators and primary filters are driven independently and can be combined to address specific requirements. Select the optimal combination from 24 (6 filters x 4 collimators) available options. Quantitative analysis using the FP method is possible with all combinations.
Easy-to-Use Operating Software – An intuitive user interface and pre-loaded calibration curves and methods make operation of these XRF spectrometers easy for all users.
 
Applications
The EDX-7000/8100 energy dispersive XRF spectrometers are ideal for a variety of applications, including:
RoHS and halogen screening
ELV hazardous element screening
Analysis of ceramics, cement, glass, bricks, and clay
Analysis of raw ingredients, control of added elements, and analysis of foreign matter in foods
Main component analysis and impurity analysis of raw materials, alloys, solder, and precious metals
Analysis of impurities and foreign matter in active pharmaceutical ingredients (USP <735>)

Download Shimadzu's whitepaper that provides background on USP <735> and the XRF technique, and shows how this method can reduce the need for complicated chemical analysis procedures requiring time-consuming chemical preparation processes.
//= /* @escapeNotVerified */ __('We can\'t find products matching the selection.') ?>