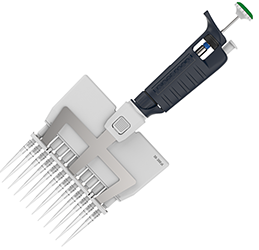 PIPETMAN® brings a new level of comfort into Gilson range with a redesigned piston mechanism that reduces the force needed to aspirate and dispense liquids. PIPETMAN maintains the trusted durability, accuracy, and reliability of the original PIPETMAN pipettes with comfort.
Pipetting Comfort
PIPETMAN offers one of the lowest pipetting forces commercially available. With a redesigned piston assembly system and high quality piston grease, PIPETMAN guarantees hours of comfortable pipetting.

Reliable Results
PIPETMAN relies on the legendary accuracy, precision, and reliability of PIPETMAN with improved pipetting comfort.

Built-to-Last and Convenient
Made of PVDF and stainless steel, PIPETMAN offers premium durability.

The PIPETMAN clip ejector allows for convenient access to serviceable parts.