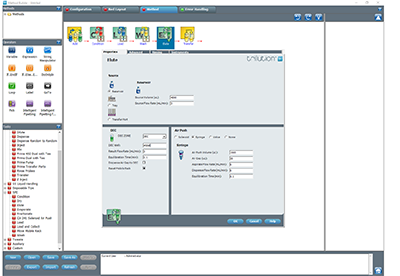 TRILUTION® LH provides a solution for customers using Windows 10 and is a comprehensive software package for seamless automation of all liquid handling (LH) and solid phase extraction (SPE) methods. With its intuitive interface, simple drag-and-drop method creation, and application simulation, it combines flexibility and ease of use.
Five E's Software for Unmatched User Experience
Efficient: The application builder gives you access to everything you need to set up, run, and monitor your application from a single screen
Effective: Custom task and rack builders allow low-level access to customize the software to fit your needs
Engaging: Modern look and graphical task makes method development enjoyable
Error tolerant: The simulation helps prevent user errors, estimates run times, and ensures functionality and reliability of the application prior to use with precious samples
Easy to learn: Drag-and-drop functionality and a large selection of ready-to-use tasks makes method creation quick and easy
---
All-in-One Software for Optimized Productivity
TRILUTION software allows for multiple applications ranging from basic liquid handling (dilution, kinetic reaction) to sample preparation (filtration, liquid-liquid extraction (LLE), or solid phase extraction (SPE)) on the same liquid handler.
---
Specifications
Display

Resolution: 1440 x 900 (or greater)
Colours: True Colour (32-bit)
Text Size: 100%

Hard Drive
500 GB–1 TB (200 GB available)
I/O Ports
One Serial port required for Gilson Server: Native or USB to RS-232 Adapter* Additional Serial ports for GEARS devices: USB to RS-232 Adapter* One Ethernet port USB ports for USB devices
Memory (RAM)
8.0 GB
Operating System
Microsoft® Windows® 10 Professional (64-bit)
Processor
Quad Core (2.7 GHz)
Pack Size
1
Pack Size Unit
Each
//= /* @escapeNotVerified */ __('We can\'t find products matching the selection.') ?>