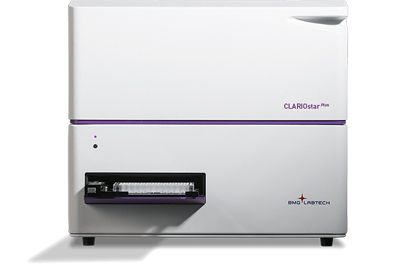 The CLARIOstar Plus is a multi-mode microplate reader with advanced LVF Monochromators™, highly sensitive filters, and an ultra-fast UV/vis spectrometer. The Enhanced Dynamic Range and automatic focus technologies make manual settings superfluous and detection optimisation easier than ever. 
Atmospheric Control Unit, temperature incubation, multiple shaking, well scan and reagent injectors make the CLARIOstar Plus the ideal platform for any live cell-based assay.
Features
Innovative monochromators for increased sensitivity
Fully-flexible wavelengths and bandwidths
Spectral scanning in ABS, FI and LUM
Largest dynamic range with no manual intervention
Rapid full-plate autofocus
Dedicated features for live cell-based assays
Ultra-fast data sampling (100 measurements/second)
Dedicated laser for Alpha Technology
---
Microplate Reader Technologies
LVF Monochromators
The revolutionary next-generation monochromator technology with filter-like performance. LVF Monochromators™ take advantage of Linear Variable Filters (LVF) to separate light into distinct wavelengths and continuously adjustable bandwidths. LVF Monochromators allow for filter-like light transmission and performance, and eliminate the stray light issues found in conventional monochromators. They make the CLARIOstar the most sensitive monochromator-based microplate reader on the market.
Alpha Technology Laser
Excitation lasers significantly improve performance and lower limits of detection, since they yield higher excitation energy at a specific wavelength when compared to xenon lamps. Both the CLARIOstar and the PHERAstar FSX can be equipped with a laser dedicated to Alpha Technology (AlphaScreen®, AlphaLISA® and AlphaPlexTM) detection. This dedicated laser outperforms any xenon-based light source by specifically exciting donors at 680 nm.
Direct Optic Bottom Reading
Fluorescent and luminescent detection of adherent cells substantially profits from measurements performed from the bottom of the well. The PHERAstar FSX and the CLARIOstar have a free air optical path to the bottom of the microplate, improving sensitivity and eliminating the need for fiber optics or light guides. Unlike conventional microplate readers, all BMG LABTECH readers require no displacement or installation of any additional hardware when switching between top and bottom reading modes.
Automation
Automation is a key feature in high-throughput screening. Several BMG LABTECH microplate readers have been successfully integrated into various robotic systems. Since all instruments have the same x-y dimensions and plate out/in position, once automation has been designed for one BMG LABTECH reader, the solution will work for all. All plate readers can be controlled through ActiveX or DDE interfaces. Moreover, the ASCII data output is the most versatile in the industry and works with most LIMS and automation platforms.
Reagent Injectors
Many of today's most popular assays such as enzyme kinetics, calcium flux, and dual luciferase require the ability to monitor a signal during and after the addition of a reagent. All BMG LABTECH readers, with the exception of the SPECTROstar Nano, can be equipped with up to two built-in reagent injectors. Injectors enable reagent delivery to any plate format from 6 to 384 wells.
Incubation and Shaking
Shaking and incubation allow users to mix the well content and easily run measurements at elevated temperatures. The incubator controls the air temperature in the measurement chamber from room temperature up to 45 °C or 65 °C. BMG LABTECH microplate readers are equipped with orbital, double-orbital or linear shaking with definable intensity, duration and direction of motion. These features are available on all BMG LABTECH plate readers.
UV/vis Spectrometer
BMG LABTECH was the first and is the only microplate reader manufacturer to equip its instruments with a UV/vis spectrometer for absorbance measurements. Similar to a monochromator, but much faster, the spectrometer will capture full-absorbance spectra from 220 to 1000 nm at a resolution of 1 nm in less than one second/well. Alternatively, up to eight discrete wavelengths can be collected at the same time.
Dedicated High Performance Luminescence
For the optimization of luminescence assays, BMG LABTECH has created an internal dedicated detection system. This allows for a much higher signal-to-noise ratio than in competing readers and for lower limits of detection. Moreover, specific proprietary luminescence optics increase the signal in various plate formats (96, 384, or 1536), allowing for an uncompromised signal regardless of your plate format.
Z-height Focus
Automatic Z-height adjustment is extremely important for obtaining the best possible signal from every sample. If the focus is inaccurate by as little as 0.2 mm, this can result in a signal degradation of up to 25%. BMG LABTECH's Z-height focus adjustment tool scans the whole sample with 0.1 mm resolution and determines the height at which the strongest signal can be measured.
Enhanced Dynamic Range
Sample signals often span over a wide range of intensities. This makes detection of all samples in a single run problematic as a fixed gain ensures that only a limited range of intensities is reliably detected. Enhanced Dynamic Range was specifically designed to offer the largest possible dynamic range - 8 concentration decades. It allows measurement of bright and dim signals in the same run – no gain setting required – and provides highly reliable results over a large dynamic range with no manual intervention.
---
CLARIOstar brochure
//= /* @escapeNotVerified */ __('We can\'t find products matching the selection.') ?>