FLEX SERIES GC AUTOSAMPLER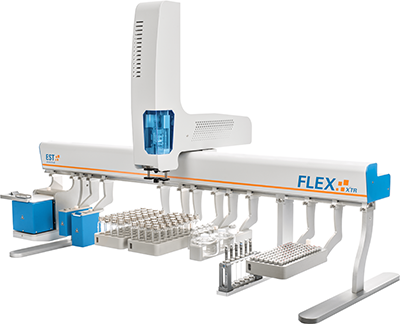 The FLEX Series Robotic Sampling Platform provides SPME, Headspace, and Liquid Injection for the vast majority of your GC MS autosampler needs. Whether your laboratory is responsible for determining compounds in food, beverages or analyzing flavours or odours there's a new option. Are you tired of bells and whistles that look good on paper but just don't work in your real-world lab? Now you have a choice!
Unsurpassed Precision And Productivity
Maximize productivity through overlapping prep routines to optimize GC productivity
Increased headspace productivity with upfront sample preparation functionality
Unsurpassed agility with line-by-line editing capability without sequence interruption
Automated calibration tray and accessories minimizes set-up time
Unleash the full power of a robotic sampling platform that was designed with you in mind. The Flex design was based on significant market research that asked analysts what current products on the market were lacking and what they would like to see in a new GC MS autosampler. That insight resulted in the first US manufactured robotic sampling platform, the FLEX. The FLEX is engineered through multi-access movement, state of the art wireless M2M communication and a rugged industrial size T-rail.
The FLEX delivers standard or large volume injection of up to 500 uL. The FLEX performs liquid sample introduction with the ability to control injection speeds from ultra-fast to very slow for optimized, reproducible results. Streamlined design with robust engineering gives analysts confidence. The FLEX provides automation to your liquid or headspace SPME analysis, including fiber conditioning, sample extraction, and fibre desorption. Derivatization can be performed on the fibre or reagents added to the sample prior to extraction. The FLEX can handle all commercially available fibres.
---
Software That Works
No software upgrades to purchase, all functionality comes standard
One PC controls up to four systems
Stand-alone operation with any analysis system
The FLEX puts you in control of productivity. With user-friendly software that enables the analysis of multiple samples at a time, the FLEX optimizes your GC MS autosampler's productivity. The FLEX uses a graphical user interface that's simple, easy and intuitive. This enables users to customize methods by using both a method configurer and method developer. You now have drag-and-drop simplicity that allows you, not the instrument, to be in control.
---