BW-K & BX-K Series Platform Balances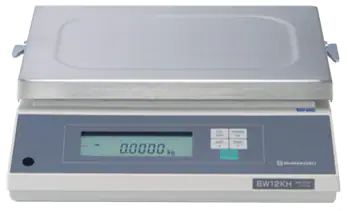 Shimadzu's BW-K and BX-K Series of platform balances, with maximum capacities of 12 kg to 52 kg, are ideal for weighing large samples and objects.
Incorporating Shimadzu's stable and reliable UniBloc weighing technology, the difference between the BW-K and BX-K models are a built-in calibration in the BW-K models for added piece-of-mind.
High-Precision, Large-Capacity Balances
BW-K and BX-K Series balances are designed specifically for weighing large amounts of samples and large objects. Even though these balances have high maximum weighing capacities, precise measurement is maintained.
---
Reliable, Stable UniBloc Weighing Technology
Shimadzu's UniBloc weighing technology is a high-precision one-piece force cell, created by electric discharge wire processing applied to an aluminum alloy block. UniBloc's compact, uniform structure ensures stable temperature characteristics, an excellent response time, and an even corner-load performance.
---
Built-in Calibration Weight for BW-K models
Included in BW-K models is a simple lever-operated calibration weight. This large calibration weight is as reliable as external calibration and is applied when needed.
---
Additional Application Functions
The BW-K and BX-K Series feature a wide range of additional application functions, including a built-in clock, a GLP, GMP and ISO compatible calibration report, an analog bar graphic display, a specific gravity measurement mode, an animal measurement mode, and a formulation mode. To undertake specific gravity and animal measurements, additional accessories are required.
---
BW-K Model Platform Balances
Model
BW12KH
BW22KH
BW32KH
BW32KS
BW52KS
Capacity
12 kg
22 kg
32 kg
32 kg
52 kg
Minimum display
0.1 g
1 g
Repeatability
(standard deviation)
≤0.1 g
≤0.12 g
≤0.6 g
Linearity
±0.2 g
±1 g
Response time
2 – 2.5 secs
2 secs
UniBloc weighing technology
Included
Built-in calibration
Included
Built-in clock
Included
GLP/GMP/ISO calibration report
Included
Analog bar graphic display
Included
Specific gravity measurement mode
Included
Animal measurement mode
Included
Formulation mode
Included
Internal Timer Output
Included
Operating temperature range
5 to 40⁰C
Temperature coefficient for sensitivity
±3 (10 to 30⁰C)
±4 (10 to 30⁰C)
Pan size
W x H
Approx. 345 x 250 mm
Body dimensions
W x D x H
Approx. 360 x 125 x 125 mm
Weight
Approx. 16.5 kg
Display
LCD
Input/output terminal
RS232C; RS/I-O
---
BX-K Model Platform Balances
Model
BX12KH
BX22KH
BX32KH
BX32KS
BX52KS
Capacity
12 kg
22 kg
32 kg
32 kg
52 kg
Minimum display
0.1 g
1 g
Repeatability
(standard deviation)
≤0.1 g
≤0.12 g
≤0.6 g
Linearity
±0.2 g
±1 g
Response time
2 – 2.5 secs
2 secs
UniBloc weighing technology
Included
Built-in calibration
Not Included
Built-in clock
Included
GLP/GMP/ISO calibration report
Included
Analog bar graphic display
Included
Specific gravity measurement mode
Included
Animal measurement mode
Included
Formulation mode
Included
Internal Timer Output
Included
Operating temperature range
5 to 40⁰C
Temperature coefficient for sensitivity
±3 (10 to 30⁰C)
±4 (10 to 30⁰C)
Pan size
W x H
Approx. 345 x 250 mm
Body dimensions
W x D x H
Approx. 360 x 125 x 125 mm
Weight
Approx. 10.5 kg
Display
LCD
Input/output terminal
RS232C; RS/I-O
Products