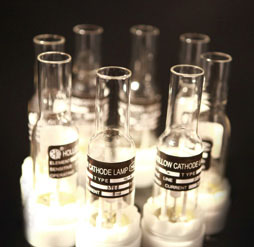 For the high-performance boosted hollow cathode lamp, an auxiliary cathode electrode is added based on two ordinary hollow cathode lamps.
The atoms will be produced under the sputtering action in the hollow cathode due to discharging between the hollow cathode and the anode. The low-voltage high current between the anode and the auxiliary cathode provides excitation energy for the atoms, and such sputtering action and excitation action will be respectively controlled by two separate discharge processes. This greatly improves the excitation efficiency of the atomic spectrum.
The high-performance hollow cathode lamp requires a dedicated power supply.