The UV-1900i double-beam spectrophotometer is designed to enhance usability, performance and data compliance. It is an ideal workhorse UV-Vis spectrophotometer for all types of work, from routine analysis to research.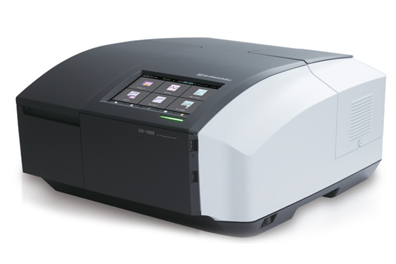 The UV-1900i provides the perfect balance of performance and usability, with high resolution, low stray light, an ultra-fast scan function, and an easy-to-use interface. The spectrophotometer can be operated standalone (without PC) using the touch panel or with PC with the included LabSolutions UV-Vis software. Measurement modes include photometric, spectrum, quantitation, kinetics, time course and bio-methods. The instrument also packs various features to make everyday work easy and efficient, such as USB keyboard and barcode input, wake-up functions that enables the device to start up at a desired time, display options for eight languages, network printing, USB printing and expanded memory.

With the included LabSolutions UV-Vis control software, users can get the most out of the instrument in terms of data acquisition, analysis, data integrity and users administration. With proper software compliance package, the UV-1900i and the software setup can provide total data integrity, users administration and audit trail to fully comply with FDA 21 CFR Part 11 compliance.
Specifications
Easy to operate; obtain answers easily and rapidly
- Easy-to-use user interface design
- Ergonomic touch-screen display
- Support for USB keyboards and barcode readers
Advanced Regulatory Compliance – full support for Pharmacopeia (JP, USP and EP), GLP/GMP, FDA 21 CFR Part 11 and other regulations with appropriate software package
Enhanced security functions to provide audit trails and various user authority levels ("Administrator", "Developer" and "Operator")
A diversity of measurement modes: photometric, spectrum, quantitation, kinetics, time course and bio-methods
A scanning UV-Vis spectrophotometer with ultra-fast scan speed of 29,000 nm/min for accurate measurement of fast occurring reactions and processes
Resolution of < 1 nm, the highest in its class
- Featuring a compact, bright optical system with Czerny-Turner mounting
- The instrument is more than capable of meeting the wavelength resolution required in the European Pharmacopoeia