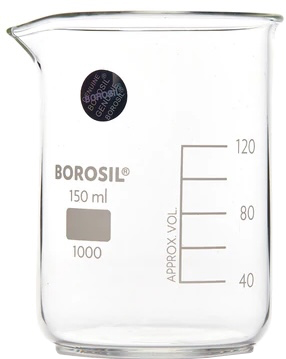 Borosil® Beakers are designed with pouring spouts for clean, precise pouring.
Uniform wall thickness and stress-free annealed glass make them ideal for heating or cooling liquids. High resistance to chemical attack means Borosil® Beakers can be used in nearly any application.
Easy-to-read labels and graduations facilitate easy identification in the lab. Borosil® Beakers are not used calibrated for volume measurement.
Available in sizes ranging from 5mL to 10L. Borosil® Beakers comply with ISO 3819 and DIN 12331. 500mL and 10L options are not covered in ISO or DIN standards. 5mL and 10mL options are not graduated.