Gel Permeation Chromatography System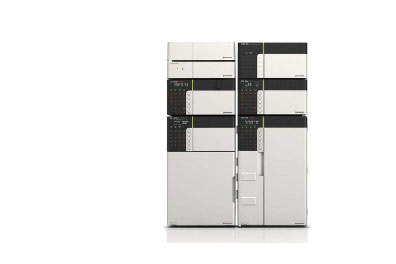 Gel permeation chromatography (GPC) is essential in polymer chemistry for measuring the distribution of molecular weights. Shimadzu has introduced the Prominence GPC system, designed specifically to provide superior data reliability and ease of use
Designed for Data Reliability
Outstanding Baseline Stability
Differential refractive index detectors used in gel permeation chromatography can occasionally react to changes in mobile phase temperature or to the quantity of dissolved air, resulting in baseline instability. However, the Prominence GPC system's RID-10A detector suppresses baseline drift by locating the optical system inside a double temperature-controlled housing and controlling inflowing mobile phase temperature. The use of a high-efficiency degassing unit with a capacity of only 380 uL significantly reduces the time required for the system to stabilize.
Solvent Delivery Performance Designed for Repeatability
Gel permeation chromatography systems measure molecular weight distribution by pseudo-correlating the molecular weights of compounds eluted between the exclusion limit and permeation limit as an exponential function of elution times. As a result, even small elution time errors can lead to large variations in measurement results. To solve this problem, Shimadzu's Prominence GPC system utilizes high speed micro-plunger actuation and automatic pulse compensation to provide pulse-free solvent delivery and improve elution time repeatability.
Designed for Validation
To ensure the reliability of data, equipment maintenance and management are also important. This system's auto-validation feature is useful for IQ/OQ procedures during installation, and for evaluating the operating status of each unit and managing maintenance information during periodic inspections. An optional column management device (CMD) allows the recognition of column name, serial number or other column information, as well as the storage of usage history information, including mobile phase flow rates and the number of sample injections. (When multiple columns are connected, the data's history can be recorded for a set of columns.)
Prominence GPC
GPC Systems with Low Flow Rate Precision
Repeatability of Elution Time
0.011%RSD
0.029%RSD
0.044%RSD
Repeatability of Weight-Average Molecular Weight
0.167%RSD
0.443%RSD
0.676%RSD
Repeatability of Number-Average Molecular Weight
0.167%RSD
0.443%RSD
0.675%RSD
---
Designed to be Easy to Use
Easily Creates GPC Calibration Curves using a Visual Interface
Use a wide range of approximation formulae to create calibration curves, such as linear, 3rd-order, 3rd-order + hyperbolic curve, 5th-order, 5th-order + hyperbolic curve, 7th-order, 7th-order + hyperbolic curve, or broken line. This software provides up to 64 data points and allows entry of virtual points, so calibration curves can be checked visually for appropriateness while they are being created. Mark-Houwink calibration curve correction methods or various correction methods based on Q-factors or degree of polymerization are also available.
Post-Run Analysis using a Variety of GPC Data Analysis Functions Helps Determine Data Processing Methods
Waveforms can be manipulated by means of a graphical interface in the GPC Data Analysis window. Changing the peak integration parameters also recalculates the number-average, weight-average, Z-average, Z+1-average, and viscosity-average molecular weights, as well as intrinsic viscosity and polydispersity in real time. The derivative and integrated molecular weight distribution curves are also updated. Time correction for internal standard peaks or control samples, or sensitivity correction for detectors, is also available.
Data Comparison Features Simplify Analysis of Multiple-Sample Data
The comparison feature will display overlays of derivative and integrated molecular weight distribution curves for up to 10 analytes. It also displays statistical results such as the number-average, weight-average, Z-average, Z+1-average, and viscosity-average molecular weights, as well as intrinsic viscosity and polydispersity. If you shift specific data parallel to the time axis,, the molecular weight distribution is recalculated and the derivative and integrated molecular weight distribution curves are updated using the corrected time.
Customize the Report Layout
From individual analysis reports to summary reports, general-purpose LC and GPC calculation results can be combined in the same report format. A wide selection of report content can be used, with a high degree of freedom to create numerous report layouts. Summary reports can even include chromatograms, gel permeation chromatography calculation results, and statistical calculation results for multiple analytes on a single page.
Enhanced Data Control Features
Together with CLASS-Agent data management software, this system provides highly secure data control. Data searches can be easily set according to a variety of parameters, including operator, date and time. Data can also be automatically stored in databases as PDF files, allowing a paperless analytical laboratory. Note: Loading data as PDF files requires the Adobe® Acrobat® software.
Prominence is a network-ready HPLC system that meets the demands of today's advanced users. Prominence features the world's first web control, fastest sample injection, and highest detection sensitivity performance - functions that surpass current HPLC technology.
CBM Web Browsing
Ability to monitor and control you LC system over a network.
Analytical Solvent Delivery Unit
World class pumps with unrivaled performance from semi-micro-flow rates (below 50 uL/min) up to semi-preparative flow rates (10 mL/min).
Pulse-free solvent delivery, essential for high quality data acquisition.
High accuracy gradient formation by low-pressure gradient elution or a binary high-pressure gradient elution.
Needle-in-Flow Path Autosampler with Increased Throughput
Flow through the needle reduces sample carryover to an absolute minimum.
The high-performance measuring pump provides precision and accuracy for sample injections of even the smallest volumes (1 μL or less).
Increased sample capacity with full automation and high speed injections.
Large Capacity Column Oven with Precision Temperature Control
Oven temperature is calibrated at two different points to ensure a high degree of accuracy. Large column compartment can comfortably hold up to three 300 mm columns, two flow control valves, two manual injectors, and a gradient mixer.
Choice of Detection
UV-Vis, Photodiode Array
Fluorescence (simultaneously record up to four wavelength detection, see photo)
Refractive Index
Conductivity
Evaporative Light Scattering
These are limited specifications for some typical components.
Pump
LC-20AD
LC-20AT
LC-20AB
Degassing Unit
3 or 5 Lines (Volume 400 μL)
Pulsation
0.1 MPa (for water at 1.0 mL/min. and 7MPa)
0.3 MPa (for water at 1.0 mL/min. and 7MPa)
0.1 MPa (for water at 1.0 mL/min. and 7MPa)
Flow rate range
0.0001 to 10.0000 mL/min.
0.001 to 10.000 mL/min.
0.0001 to 10.0000 mL/min.
Flow rate precision
No more than 0.06% RSD or 0.02 min SD, whichever is greater
Gradient type
High-pressure / low-pressure mixing gradient
High Pressure mixing
Gradient / concentration precision
±0.5% (specified conditions)
1.0% (specified conditions)
±0.5% (specified conditions)
Maximum pressure
40 MPa
Autosampler
SIL-20A/C HT
Injection method
Needle-in-flowpath
Injection volume accuracy
±1% (at 100 μL injection, n = 10)
Injection volume range
0.1 to 100 μL (Option: 0.1 to 50 μL, 1 to 500 μL, 1 to 2,000 μL)
Injection volume reproducibility
RSD: 0.3% maximum (at 10 μL injection)
Samples capacity
Sample plate: 175 (1 mL), 105 (1.5 mL), 50 (4 mL), 2 (MTP/DWP plates)
Control plate: 10 (1.5 mL)
Sample cooler
Block cooling/heating, used together with defumidifying function
4 to 40°C
*No sampler cooler included in SIL-20AHT model
Oven
| | |
| --- | --- |
| | CTO-20A/C |
| Oven Capacity | W220 × D95 × H365 mm |
| Temperature control range | Room temperature ± 10 to 85°C, Setting range 4 to 85°C |
UV Detector
SPD-20AV
Wavelength Range
190 to 900 nm (with optional tungsten lamp)
Noise level
±2.5 × 10?6 AU, (250 nm, Specified condition)
Flow cell
12 μL (10 mm), 12 MPa
Option cell
High-Sensitivity: 8 μL (10 mm)
Semi-micro: 2.5 μL (5mm)
PDA Detector
| | |
| --- | --- |
| | SPD-M20A |
| Wavelength Range | 190 to 800 nm |
| Noise level | ±6 × 10?6 AU, (250 nm, Specified condition) |
| Flow cell | 10 μL (10 mm), 8 MPa |
| Option cell | High-Sensitivity: 8 μL (10 mm) |
Integrated software for LC, GC, LC/MS, and LC/MS/MS, LabSolutions features an innovative operating environment enabling more efficient workflows and enhanced functionality that provides complete data management to ensure secure information in networked laboratories. The full suite of software options allows users to obtain the data system best suited to their laboratory and objective. In addition, the family of LabSolutions software packages now encompasses UV-Vis, FTIR, ICP-MS, and more, allowing laboratories with a variety on instruments to manage data from multiple platforms with one C/S package.
---
LabSolutions LC/GC – File Based Control and Analysis Software
Designed to improve software operation, LabSolutions LC/GC enables simultaneous control and analysis of up to four LC/GC systems and data for a more user-friendly environment. It can also be connected with the conventional CLASS-Agent system.
---
LabSolutions Database (DB) – Secure Data Management with a PC
LabSolutions DB is a SQL-based platform that integrates a data management function with LabSolutions LC/GC and is compliant with ER/ES regulations. In addition to Shimadzu systems, other vendors' HPLCs and GCs can also be controlled.
---
LabSolutions Client/Server (CS) – Network-based Data System
Since all analytical data is managed in the database of a server computer, LabSolutions CS can read data from any personal computer on a network. In addition, analysis directions and instrument monitoring and control can be performed from a personal computer (client PC) not connected to the instruments. Furthermore, LabSolutions CS is compatible with Citrix XenApp and can perform advanced server management.
In addition to Shimadzu chromatography and LC-MS/MS systems, LabSolutions C/S enables management of data from spectroscopy instrumentation and other vendors' HPLCs and GCs.
---
Common Features
Intuitive Operating Environment
LabSolutions enables operation of LC and GC systems from the same software, enabling simultaneous control of multiple instruments from a single PC. The shared LC and GC analysis operating environment lessens the training time for workstation operations.
Enhanced Security Functions
The reliability of data is paramount to any laboratory environment. The LabSolutions suite helps you achieve secure, verifiable data with a variety of key functions.
Allows setting up an audit trail to ensure the reliability of data and document e-mail transmission functions
Password-managed user accounts; passwords must meet specified requirements
Ability to set lockout functions to prevent illegal access, and set a registered user's deletion and change
Setting to prevent overwriting a data file
LabSolutions LC/GC also incorporates the LabSolutions Direct, a remote access tool that enables control and monitoring of HPLCs from a commercially-available smartphone or tablet PC via a simple user interface.
Support Functions for CSV (IQ/OQ Validation)
With LabSolutions, Windows OS security patches and other PC and software installation information is integrated for display, and can be printed. In addition, LabSolutions security policy, numerical rounding settings, and other system information, as well as user information and equipment information, can be integrated for printing from a single window.
---
LabSolutions DB and CS Features
In addition to the list above, LabSolutions DB and CS provide users with more extensive functionality in order to serve laboratories with regulatory requirements or facilities with a large number of instruments and users.
Safe, Secure Data Management
With LabSolutions DB and CS, the analysis data is managed securely by the database. Overwriting, deletion and other mistakes typical of data file management do not occur. In addition, when postrun analysis is performed using the acquired data, postrun analysis data revision numbers are automatically assigned, preventing the accidental overwriting of raw data.
Data Integrity Compliance with Report Set
Data integrity is a constant and critical issue for any regulated laboratory. LabSolutions DB/CS version 6.50 or later includes a Report Set function that details software operations employed, while preserving the sophisticated security functions that protect the underlying data. It not only ensures the reliability of data and subsequent analyses, but it saves you time when checking your analysis results.
Integrated Data Management
Integrate with CLASS-Agent network-compatible data management tool to manage the data of analytical instruments connected on the network in an integrated manner in a database. Network support also allows the data of all instruments to be batch-managed on a server PC, which means the data can be easily browsed from client PCs.
Multi-Data Report Creation
Multi-data report creation functionality makes it possible to easily create reports using Microsoft Excel. The process can be coordinated with scheduled analyses, making it possible to quickly create reports when an analysis ends.
Project Management Function
This function enables equipment and user management, security policy, and data processing to be set on a project by project basis, thereby improving the efficiency of data searches and management tasks.
---
LabSolutions CS Features
LabSolutions CS provides integrated, server-based data management and expands on DB to meet the requirements on a variety of laboratories, including:
Facilities with a large number of instruments and users
Facilities interested in enhancing procedural efficiency
Facilities interested in enhancing managerial efficiency
Facilities where existing PCs can be used as client PCs

With LabSolutions CS, you can:
Check instrument operating status at a glance
Access equipment freely, from any location, while maintaining security, improving the efficiency of analysis status monitoring, report creation, and more
Quickly search an enormous amount of data
Integrate system information, including data and users, with a server, significantly reducing the time and effort required by an administrator