ASPEC Manual Positive Pressure Manifold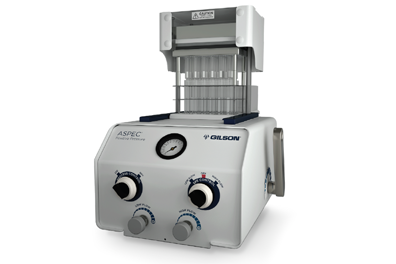 The ASPEC® Positive Pressure Manifold uses positive pressure to improve reproducibility and recovery for solid phase extraction (SPE) applications. With its precise flow rate control, the manifold improves consistency among samples and ensures uniform flow for both low and high viscosity solutions.
Combined with ASPEC SPE Cartridges, the manifold offers an initial step to SPE automation for clinical, forensic, and food or beverage testing labs. With the ability to accommodate 96-well plate formats and viscous samples, it is also an ideal choice for sample clean up prior to LCMS for bioanalyses.
Compact and Easy to Set Up for Quick Operation
With its small footprint and only a single gas input, the ASPEC Manifold is quick to set up and easily fits under fume hoods for extractions that use volatile solvents.
Positive Pressure for Reproducible Extractions
With its integrated pressure gauge and intuitive controller, the manifold provides uniform and consistent flow rate control, improving SPE reproducibility and recovery. Positive pressure ensures that all samples will elute regardless of the viscosity level.
Parallel Processing for Maximum Efficiency
Parallel extractions increase daily throughput and reduce time spent in front of the instrument.
Flexibility for a Variety of Applications
With its interchangeable manifolds, the ASPEC Manifold is compatible with both cartridges and 96-well SPE plates.
Unmatched Versatility
The ASPEC Positive Pressure Manifold offers a variety of features to fit your workflows and give you the flexibility you need.
Modular design allows for compatibility with 1, 3, and 6 mL SPE cartridges and 96-well SPE plates
Waste drain allows use of unlimited solvent volumes
Low gas pressure inlet (15 psi)
Dual flow regulators for precise flow regulation for each SPE step
Combine with Gilson repetitive pipettes for accurate volume dispensing