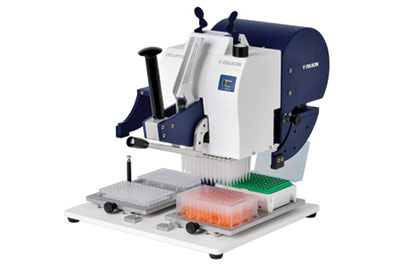 Now you can pipette 96- and 384-well plates...FAST!
The Gilson PLATEMASTER® is an amazingly easy to use, accurate solution for high throughput pipetting of 96- and 384-well microplates. Its compact and ergonomic design means it can be used anywhere and by anyone for fast, effortless and reproducible pipetting of 96 channels. PLATEMASTER® helps save valuable time, money and resources in the lab, and is as intuitive to use as a manual pipette.
Increase the Productivity of Your Workflows
The PLATEMASTER's 96-channel design greatly reduces the number of pipetting steps necessary to fill a microplate when compared to using regular manual multichannel pipettes. When using PLATEMASTER, the time it takes to fill 96-well plates is significantly reduced to approximately 10-20 seconds or less, and 384-wells can typically be filled in less than a minute using only four pipetting steps.
Increased Accuracy, Precision, and Reproducibility
Using PLATEMASTER for higher throughput applications reduces the risk of human error. In a single motion, accuracy and precision levels can equal that of an 8- or 12-channel pipettes, while avoiding the risk of skipping or repeating wells. Additionally, all enzymatic reactions and cell-based applications across all wells can be started and stopped at the same time. From 0.5 µL to 220 µL pipetting volumes, expect improved well-to-well and plate-to-plate reproducibility.
Versatile and Easy to Use
PLATEMASTER is as intuitive as a PIPETMAN® and does not require programming, long training, or power for use. Through a variety of accessories, such as adapters for loading 384-well microplates, reagent reservoirs, or sample heater blocks, PLATEMASTER can be fully adapted to a variety of application needs. Its compact and portable design easily integrates into the lab, allowing it to fit on most benchtops, under hoods, or in cold rooms.
---
//= /* @escapeNotVerified */ __('We can\'t find products matching the selection.') ?>