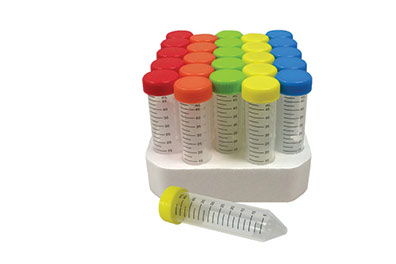 CELLTREAT Centrifuge Tubes are made of high-clarity polypropylene and have smooth, flat surface HDPE caps. Graduations are printed in a bold easy-to-read black and are accurate to ± 2%. A large white marking area provides excellent contrast for identification. Temperature use range is -80°C to 120°C. All are conical bottom except EF8896L, which is self-standing.
Choose from tubes with two types of caps:
Screw caps have smooth, flat surface HDPE plug-seal caps. An extended cap design facilitates one hand removal of caps and helps prevent contamination. Available numbered caps have large white numbers (1-25) to aid in identification.
Flip-top caps have an ergonomic leak-free flip-top cap design that allows easy one-hand opening of caps without loss of cap.
Centrifuge tubes are available in foam, cardboard recyclable racks or bulk packaged in sterile re-sealable (zip closure) bags. Inner bags contain lot number information. Sterile tubes are manufactured in a Class 100,000 cleanroom environment and are gamma irradiation sterilized (10-6), RNase-free, DNase-free,DNA-free, and non-pyrogenic.