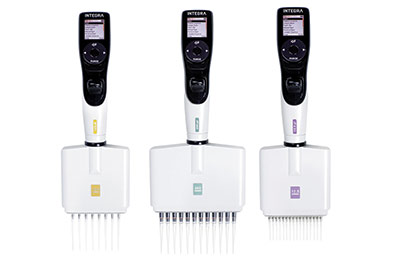 VIAFLO II electronic pipettes – never loose a tip again!

Solving many issues of traditional manual pipetting, VIAFLO II electronic pipettes excel in terms of ergonomics, ease of use and productivity.
Viaflo Multichannel Pipette.

Operational Comfort
The ultra lightweight, well balanced design of the VIAFLO II pipettes features unsurpassed multichannel pipetting ergonomics, even during prolonged pipetting sessions.

GripTip pipette tips that will not fall off
The pipettes and the unique GripTips together form an integral pipetting system. GripTips snap into place with minimal tip loading effort, providing a secure connection.

Easy operation
The color screen together with the intuitive to navigate touch wheel user interface promote overall ease of use.
*Instruments do not include a power supply or Bluetooth module. Choose your desired charging option.