MicroLiter : Certified Clean Vials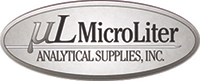 Certified Clean Vials are Essential to Your Results
All vials may appear to be created equal, but quality and performance make the difference when analyzing vital samples. MicroLiter vials are cleaned and packaged in a certified Class 10,000 clean room according to a designed process, developed to eliminate chromatographic errors associated with vials.
Critical physical dimensions are fully tested, as well as chemical cleanliness testing to ensure that trace levels of residues are not present. The result of this process is identical, clean, dependable vials that are certified to ensure optimal performance and reproducible results.
Please enter the MicroLiter part number or description in the search field above to locate the specific MicroLiter item.