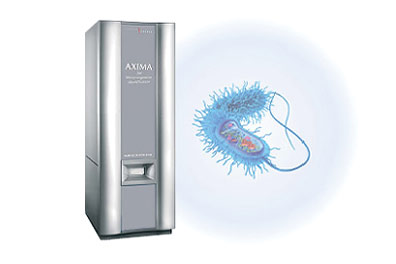 AXIMA-iD Plus
Easy Identification of Microorganisms within One Minute
Certain microorganisms can cause severe diseases and considerable damage, and need to be identified quickly and reliably. The easy-to-use AXIMA-iDPlus Microbial Identification System is the ideal tool to address these concerns. With AXIMA-iDPlus, cultured microorganisms can be directly applied to the MALDI sample target and introduced to an AXIMA series MALDI-TOF mass spectrometer to revolutionize the daily routine in analytical and diagnostic laboratories.
Fast Response, Outstanding Recovery Rate
AXIMA-iDPlus can identify 380 clinical research samples within 5 hours in the high-throughput mode, less than one minute per sample. The results appear in a comprehensible spreadsheet format, exportable to common data processing software.
Gram-positive and gram-negative bacteria, yeast, fungi and spores are identified based on their characteristic MALDI-TOF MS fingerprints with up to 98% recovery rate down to sub-species level.
Substitutes Biochemical Standard Methods
No pre-selection of analytical methods is required; hands-on time is reduced and costs are cut dramatically.
Wide Range of Applications
AXIMA-iDPlus covers a wide range of applications in a number of industries, including diagnostics, pharmaceuticals, healthcare and food. Examples include:
Diagnosis of human and veterinarian infectious pathogens
Drug discovery process – AXIMA-iDPlus recognizes new isolates generated by microorganisms and classifies the unknown into a taxonomic tree
Culture collections – Identification and classification of strains based on phenotype characteristics
Food and beverage manufacturing processes – Recognition of upcoming toxic microorganisms at an early stage.
//= /* @escapeNotVerified */ __('We can\'t find products matching the selection.') ?>