iD Plus MALDI-TOF Platform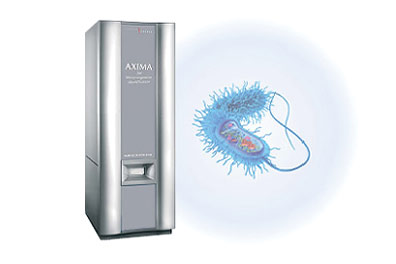 Certain microorganisms can cause severe diseases and considerable damage, and need to be identified quickly and reliably. The easy-to-use AXIMA-iDPlus Microbial Identification System is the ideal tool to address these concerns. With AXIMA-iDPlus, cultured microorganisms can be directly applied to the MALDI sample target and introduced to an AXIMA series MALDI-TOF mass spectrometer to revolutionize the daily routine in analytical and diagnostic laboratories.
Features:
Fast Response, Outstanding Recovery Rate
AXIMA-iDPlus can identify 380 clinical research samples within 5 hours in the high-throughput mode, less than one minute per sample. The results appear in a comprehensible spreadsheet format, exportable to common data processing software.
Gram-positive and gram-negative bacteria, yeast, fungi and spores are identified based on their characteristic MALDI-TOF MS fingerprints with up to 98% recovery rate down to sub-species level.
Substitutes Biochemical Standard Methods
No pre-selection of analytical methods is required; hands-on time is reduced and costs are cut dramatically.
Wide Range of Applications
AXIMA-iDPlus covers a wide range of applications in a number of industries, including diagnostics, pharmaceuticals, healthcare and food. Examples include:
Diagnosis of human and veterinarian infectious pathogens
Drug discovery process – AXIMA-iDPlus recognizes new isolates generated by microorganisms and classifies the unknown into a taxonomic tree
Culture collections – Identification and classification of strains based on phenotype characteristics
Food and beverage manufacturing processes – Recognition of upcoming toxic microorganisms at an early stage
Complementary Method
Designed for medium to high-throughput identification, iDPlus can be easily integrated into automated laboratory environments and any LIMS.
---
Process
Just Two Steps from Cultures to Results
Step 1: Sample preparation
iDPlus identifies a sample grown overnight on an agar plate. A tiny amount of cells is transferred to a FlexiMass™ target followed by 0.5 μL matrix solution. The preparation is completed within seconds after the samples are air-dried.
 
Step 2: Identification
The FlexiMass target is loaded into the iDPlus where mass spectral fingerprints of the samples are acquired. Fingerprints are matched against the SARAMIS database of SuperSpectra for immediate identification. Results are displayed within one minute.
//= /* @escapeNotVerified */ __('We can\'t find products matching the selection.') ?>