SmartChem 210 Discrete Analyzer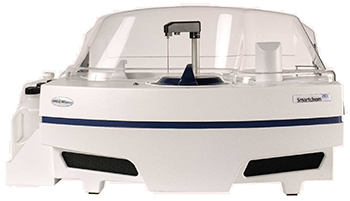 The AMS Alliance SmartChem® 210 is a fully automated, wet chemistry direct read, discrete analyzer for photometric analysis. This benchtop instrument offers a throughput of up to 210 tests per hour with optional Nitrate sample preparation modules. It can load up to 60 samples, controls and calibrators and up to 32 different reagents.
Together with its intuitive and easy to learn software platform, SmartChem® 210 provides full flexibility and power to increase the productivity in your laboratory.
When paired with the optional samples and reagent barcode readers and ready-to-use reagents, the instrument operation is simplified and does solely require to program the instrument's work routine, reducing hands-on operation and any possibility of human error.
Features
Extensive physical chemical analysis of drinking water, wastewater, and soil samples
Multi-parametric (consolidation) automated platform
Photometric analysis
Automated integrated reagents and samples barcode reader (optional)
Automated start-up to instrument readiness
Low water consumption
IF THEN driven test sequences
Programmable and monitored cuvette wash module
Reagent inventory system and liquid level sensing
Nitrate add-on module available
Available ready-to-use reagents for diverse methods
Benefits
Increased efficiency and productivity through instrument consolidation and testing automation. Free-up your staff from tedious and repetitive tasks
Microliter reactions - Reduced reagent usage and waste generation – improved cost efficiency and environmental footprint
Guaranteed stability, reproducibility and traceability with KLM's ready-to-use dedicated reagents
Improved automation level with KLM's optional bar code readers for reagents and samples – allowing full LIMS integration
Automated out-of-range retesting decision making
Cost end environmental efficiency via KLM's Cuvette Monitored Wash Cycle
Optimization of time-consuming techniques
Applications
The SmartChem® 210 is widely used for the automation of manually run wet chemistry testing in environmental, industrial, and research laboratories, including regulatory and quality control testing.
Its applications include, but are not limited to:
Water and environmental
Soil, plants and fertilizers
Food and feed
Beverages, wine and beer
Chemical
---
A True Discrete, Direct Read Measurement System
The SmartChem® 210 uses direct read photometry, utilizing a true discrete, direct read measurement system and reusable, high-purity optical cuvettes, eliminating compromised sample measurement.
SmartChem® simplifies your laboratory's work in a short series of steps:
Load samples and reagents in your SmartChem®
Set up your test
Load your work program in the SmartChem® software
Launch your programmed routine
Get the results
---
System Components
The SmartChem® 210 is supplied with a set of 12 wavelength filters, ranging from 340 – 880 nm, allowing 9 to be mounted on board simultaneously; this allows for visible spectrum photometry.
Up to 32 reagent bottles can be loaded
Sample capacity – Up to 60 sample positions with continuous loading
The instrument is modular allowing you to configure your analyzer
---
Software
The SmartChem® 210 analyzer's operation is completely computer based with the dedicated, intuitive and user-friendly software. This software is bidirectional LIMS and NELAC/EPA or NELAC-EPA compliant.
SmartChem® software simplifies routine work and allows complete control and operation of the analyzer to the operator controlling the on-board reagent stock, samples, controls and calibrators, plus the status of the cuvettes in the reaction chamber.
System Monitor
SmartChem® 210 software simplifies routine work and allows complete control and operation of the analyzer to the operator controlling the on-board reagent stock, samples, controls and calibrators, plus the status of the cuvettes in the reaction chamber.
Calibration Curve
Operators can access calibration status, use curves and historic calibration data, as well as monitor the status of specific tests, reaction curves and other on-going testing data.
Workplan Setup
The operator can easily load reagents and samples using the optional SmartChem® barcode reader and design the work routine for the analyzer to run, defining tests to run per sample, calibrations, and QC controls, etc.
Reflex and re-tests IF-THEN instances can be programmed, allowing specific actions to be automated in case of out-of-range results and/or any instances defined by the testing routine being defined by the laboratory.
Workplan Results
During and at the end of the routine, the operator can access the tests reports and results.
Levey-Jennings Plots
Quality controls can be evaluated via Levey-Jennings plots and results from the run can also be validated.
More Software Features
Automatic start-up: including calibrations and blanks.
Automatic shutdown
Barcode for reagents: auto ID and loading with Ready to Use reagents.
Barcode for samples: auto ID – automated work routine loading with LIMS
Addition of new sample or method to a sample during the run
Retest key
Accurate time to test completion information
Calibration points recalculation
Last accepted calibration overlay
Pre-dilution
Standard curves
Computer controlled micro pipettor
NELAC - EPA compliant
Real-time information on sample and reagent status
Dynamic monitoring of test run
---
SmartChem® 210 Analyzer Specifications
Dimensions
Height x Width x Length: 50 x 70 x 105 cm (19.7 x 27.6 x 41.3 in.)
Weight
48 kg (106 lbs)
Power
350 Watts
Assay Type
End Point, Kinetic, Differential, Bi Chromatic Assays, Fully Programmable
On-Board Reagents
Up to 32 Reagents Can be Loaded Into the Compartment and Distributed on 4 Removable Racks with 8 Positions (50 ml containers) Each
Sample Loading
4 x 15 Position Removable Racks (10 ml tubes)
Urgent Sample Analysis
Allowed at Any Time
Throughput
Up to 210 Tests/Hour
Reading System
Direct Photometry
Photometer: Multi-Wavelength Optics, Double Beam
Wavelength: 12 Wavelengths Available with 9 on Board
Source: Halogen Lamp 6V/10W
Optical Path: 10 mm
Linear Range: 0.001 – 2.500 Abs
Resolution: 0.0001 Abs
Minimum Reaction Volume
300 μl
Sampling System
One Mechanic Arm Provides All Sampling Operation with:
Capacitive Liquid Level Sensing
Reagent Pre-Warming at 37°C (98.6°F)
Automatic Probe Washing
Sample Pre-Dilution
Sample Rerun With or Without Dilution
Dilutor
Automatic Dilution in Pre- and Post-Dilution
Reaction Plate
Holds 60 Cuvettes that Perform the Following Operations:
Automatic Cuvette Washing
Incubation Temperature Control 37°C (98.6°F) +/- 0.3
Continuous Monitoring of Cuvette Quality
Separate Waste Lines to Minimize Hazard Disposal Management
Use of Washable Cuvettes (Green Technology)
Available Configurations
Analytical Module: NO3
Barcode Reader: Samples, Reagents
Complementary Products
Ready-to-Use Reagents
//= /* @escapeNotVerified */ __('We can\'t find products matching the selection.') ?>