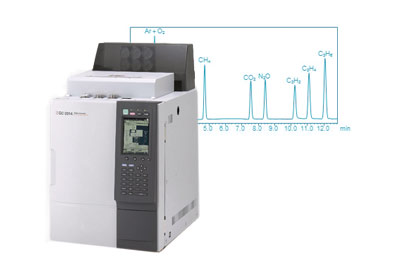 Custom Gas Chromatography Program for Complete GC Solutions

Fully applicated GC Systems based on industry-standard GPA and ASTM methods to meet specific application requirements:
Natural Gas
Liquid Natural Gas
Simulated Distillation
Transformer Gas
Greenhouse Gas
Biofuels
Shale Gas and Oil Testing
 Multiple valve systems available to provide better separation and faster analysis times, and eliminate unwanted contaminants
Column Switching
Heart-Cutting
Pre-Cutting
Backflush
Sample System GC Configurations
Greenhouse and Atmospheric Gas Analyzer
This GC-2014 based system quantifies N2O, CO2 and CH4 in atmospheric air. This system will also separate and provide quantitative information for N2, O2 and CO. It contains two ten port, one six port and one four port valve. It uses an ECD, TCD, methanizer and FID to detect the list of gases. Detection levels range from 100ppb for N2O to mid % levels for atmospheric N2 and O2. Data station and software sold separately. GCsolution is the recommended chromatography software data package. The run time can be extended to include ethane, othylene and acetylene in the analysis.
Compounds:
N2O, CH4, CO2, O2, N2, CO
Detection Limits:
N2O: 100ppb, CO2: 10ppm(FID), CH4: 0.1ppm
Natural Gas Analysis System by GPA Method 2261 Appendix B
This GC-2014 based Gas Chromatographic system is constructed according to The Gas Processors Association method 2261. The sample is introduced by filling a sample loop and injection occurs when the valve actuates. C6+ components are grouped into a single peak using a pre-cut column which is backflushed to elute the hexanes and heavier as the first peak. Nitrogen/air, methane, carbon dioxide, and ethane through n-pentane elute on a forward flow of carrier gas through the partition column. H2S is not determined. The chromatography software outputs a mole% report. A post-run program calculates BTU per cubic foot, BTU per pound and gasoline content as per the GPA 2172 method. Total run time is 15 minutes.

Compounds:
Air/Nitrogen, Methane, CO2, Ethane, Propane, I-Butane, N-Butane, Neo-Pentane, I-Pentane, N-Pentane and Hexanes+ by backflush
Detection Limits:
The lowest level of quantification for the permanent gases by TCD with Helium carrier is 50ppm (O2, N2, CO and CO2). The hydrocarbons by TCD with Helium carrier will be 50ppm.
Simulated Distillation by Gas Chromatography
This GC-2010 based system is designed with the appropriate hardware and software to perform the following simulated distillation ASTM methods: ASTM-D2887, ASTM-D3710, ASTM-D5307, and ASTM-D6352. The package includes an enhanced data station, column, C6 to C44 alkane standard, GCsolution software and SimDist GC software. Cryogenic cooling (221-49588-92) may be required for light hydrocarbon gasoline range fractionation by D2887 and is sold separately. Autosampler sold separately.
Methods:
ASTM-D2887, ASTM-D3710, ASTM-D5307 and ASTM-D6352
Hardware:
GC-2014 TCD, two 1/16th inch valves with micro-electric actuation
TOGAS ASTM-D3612 Method B
The GC-2014 based Transformer Oil Gas Analysis System is our third-generation system built specifically to run ASTM-D3612 section B. The GC-2014A TOGAS gives accurate measurement of dissolved gases which include H2, O2, N2, CH4, CO, CO2, C2H6, C2H4, and C2H2 in mineral spirit-based transformer oil via direct injection and oil stripper extraction. Meets ASTM-D3612-98 section B requirements. Features a GC-2014A with FID and TCD detectors, valves, columns, methanizer, and oil stripper. System operation is completely automated. Analysis time is approximately 25 minutes. Must include a data processor or data station.
 
Methods:
ASTM-D3612 Method B
Hardware:
GC-2014 FID/TCD, one 10 port valve and 0ne 4 port valve, methanizer.
//= /* @escapeNotVerified */ __('We can\'t find products matching the selection.') ?>