UVIband Image Quantification Software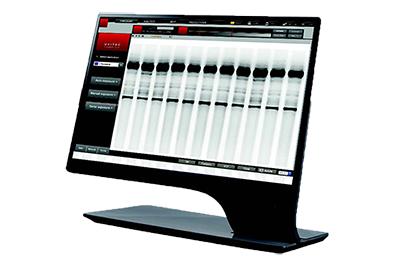 User-Friendly
Every aspect of UVIBAND is designed with ease of use in mind. This includes the very first step of opening an image, which is facilitated by the ability to choose the file from a "thumbnail" image gallery.
Powerful
All UVIBAND analysis packages include the option of reliable, fully automatic background subtraction for band quantification and optional methods for correction of gel distortions during molecular weight calculations.
Flexible
Attractive as it may sound, "One Step" analysis places excessive reliance on automation and can detract from accurate gel or blot analysis. Analysis in UVIBAND packages is step-wise and at each analysis step, there is the facility for the user to check and (if necessary) edit the results of automatic analysis processes.
Versatile
In addition to the incredibly broad range of analysis functions available in UVIBAND, there are also functions to facilitate data presentation, reports and posters. The "Print Designer" function enables data tables plus images from all analysis fields to be automatically "pasted" into a presentation or report along with explanatory text. The report can then be saved as a template, so the same report can be prepared from other data. Export to excel is done by one click.
//= /* @escapeNotVerified */ __('We can\'t find products matching the selection.') ?>